Join the Chant with Petros & Friends, Visvambhar Sheth, Dhanya & Bali Rico!
Meet the Musicians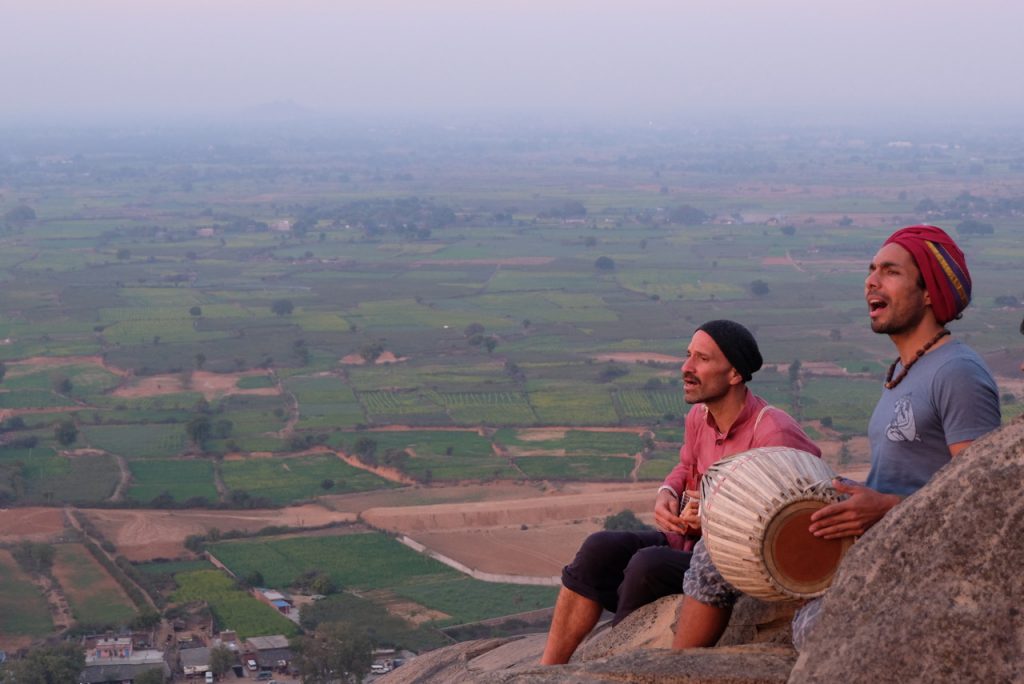 Petros Haffenrichter
Petros (above left), musician, yogi, philosopher, life-artist is a senior Jivamukti yoga teacher, opened his first yoga-school in 2002. He has been a regular guest teacher and performed kirtan in yoga schools of different traditions around the world and at intl.festivals for many years, teaching and lecturing. Asana, pranayama, Nada yoga, and philosophy. Through his present, funny, and deep teaching he has been influential to many practitioners and has taught and educated hundreds of yoga teachers globally.
Visvambhar Sheth
Visvambhar Sheth (above right), starting at the age of 5, he has spent his life leading Kirtans in the ISKCON (Vaisnava) tradition. He is a multi-instrumentalist, and a master of the Mridanga drum and performs in traditional as well as fusion styles. Vish started performing in the modern yoga studio culture 2009, and since then he has performed at countless studio gatherings and well known spiritual venues like BhaktiFest and Omega Institute. Vish has not only mastered his art but has a rare capacity to invoke the 'rasa' of the essence do the transcendental energies that define the Kirtan path.

Dhyana
Born and raised in Caracas, Venezuela and steeped in the mystical spiritual traditions of the East, singer-songwriter Dhanya (above left) is a powerful voice of the the conscious music scene. She has traveled the world sharing original songs and kirtan. Her critically acclaimed self-titled album and new releases are available on all streaming platforms.
Bali Rico
Bali Rico (above right) is a lyricist, multi-instrumentalist, author and academic. Born in the U.S. to Colombian parents, he and younger brother Kish spent their formative years living in ashrams in the sacred land of Mayapur, West Bengal, learning the traditions and music of ancient India. Bali's mridanga playing is fiery, funky and precise, helping to create the Mayapuris signature sound. As a hip-hop lyricist, Bali's flow mirrors the intricate rhythm of a born percussionist, with thoughtful prose full of insight, philosophy and personal reflection. His recent hip-hop releases bring together his eclectic musical influences and unique artistic talent.