Join the Chant with Petros & Friends, Visvambhar Sheth, Tarana Caitanya, & Hari Kirtan Das
Meet the Musicians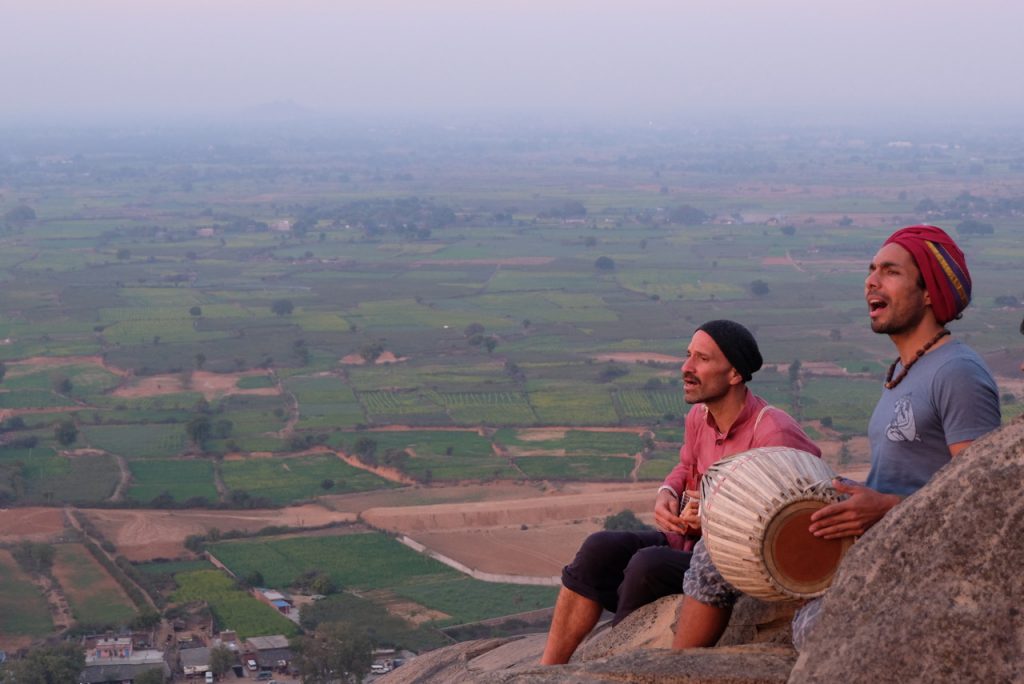 Petros Haffenrichter
Petros (above left), musician, yogi, philosopher, life-artist is a senior Jivamukti yoga teacher, opened his first yoga-school in 2002. He has been a regular guest teacher and performed kirtan in yoga schools of different traditions around the world and at intl.festivals for many years, teaching and lecturing. Asana, pranayama, Nada yoga, and philosophy. Through his present, funny, and deep teaching he has been influential to many practitioners and has taught and educated hundreds of yoga teachers globally.
Visvambhar Sheth
Visvambhar Sheth (above right), starting at the age of 5, he has spent his life leading Kirtans in the ISKCON (Vaisnava) tradition. He is a multi-instrumentalist, and a master of the Mridanga drum and performs in traditional as well as fusion styles. Vish started performing in the modern yoga studio culture 2009, and since then he has performed at countless studio gatherings and well known spiritual venues like BhaktiFest and Omega Institute. Vish has not only mastered his art but has a rare capacity to invoke the 'rasa' of the essence do the transcendental energies that define the Kirtan path.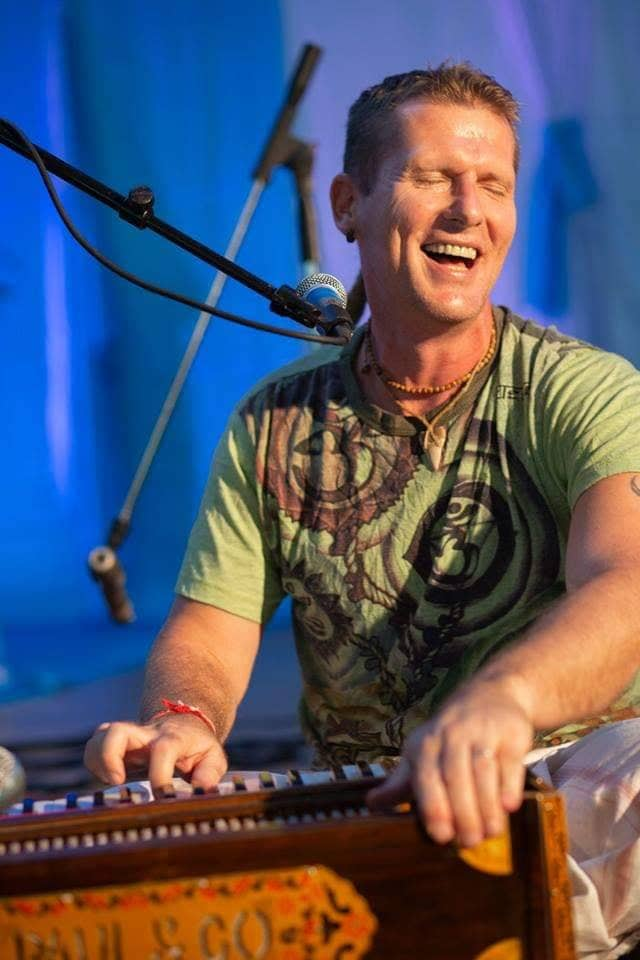 Tarana Caitanya
Tarana is a Croatian kirtan artist whose love of spirituality and music blossomed in childhood. As a teenager, he lived in a bhakti yoga ashram as a monk.  He was engaged in 'Yoga is Music' project which promoted kirtan and spiritual music on Balkans and later on all around the world. In 2012, he recorded a live album with his friends called, 'Love in Action'. The Maha Mantra from that album went viral with more than 19,000,000 hits on YouTube. Tarana travels the world spreading love through kirtan. A new album is in the works and will be released soon.
Hari Kirtan Das
Hari Kirtan Kaufmann is a versatile multi-instrumentalist, singer-songwriter and visual artist. Together with his wife, Vrindavan Favors, who is a Bharatnatyam dancer and spoken word artist, he travels through Europe, North America, and Asia performing spiritual songs, Mantra meditation, and Kirtan at various yoga studios and uplifting, conscious festivals.
Over the years, Hari Kirtan Kaufmann has been able to transfer all his experience on stage, back into his source of solace, awakening a sincere desire to reconnect to the ultimate Origin with his soulful voice. In collaboration with Vrindavan, sharing knowledge of the Bhakti tradition through musical, storytelling dance performances, spoken word, spiritually uplifting songs and the devotional chanting of Kirtan and Mantras has become their main focus and passion. Additionally, they are organizing team members of mantra festivals in Germany, Italy and India.