We are so excited to host our first Literary and Kirtan event!
 1:00-2:15 pm EST: Literary Circle
Sharon Gannon will read from her new poetry book "Magic Is A Shift In Perception" and give commentary about this moving memoir. Then, Vrinda Sheth will read from her new book "Destroyer of Sorrow" and give commentary. The literary circle will conclude with a 15-20 minute conversation lead by Jivamukti Global CEO Hari Mulukutla. Since Kirtan (devotional singing) and an Katha (telling stories) are two main practices of Bhakti Yoga, we are excited to bring them together like this!
Meet the Authors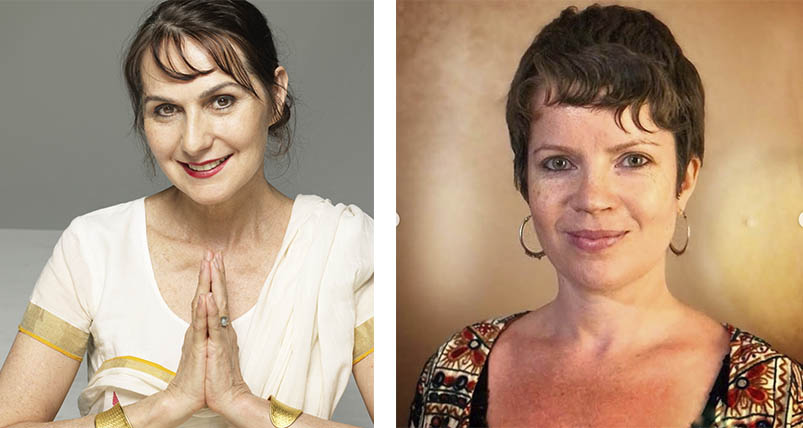 Sharon Gannon
For over forty years, Sharon Gannon (above left) has been dedicated to changing the ways in which people view spirituality, life, themselves, one another, animals, and the environment. Along with David Life, she is the creator of the Jivamukti Yoga method, a path to enlightenment through compassion for all beings, which holds veganism as a core principle. Blessed by her teachers, Shri Brahmananda Sarasvati, Swami Nirmalananda, Sri K. Pattabhi Jois, Shyamdas, and Shri Milan Goswami, she is a pioneer in teaching yoga as spiritual activism. The Jivamukti method has been recognized as one of the nine forms of hatha yoga practiced in the world today. Gannon has authored many books and produced numerous yoga-related films and music albums. She resides in a wild forest sanctuary in upstate New York.
Vrinda Sheth
Vrinda Sheth (above right) grew up in Sweden and was raised on stories from the ancient Indian lore, such as the Mahabharata, Ramayana, and Bhagavat Purana. She became an avid reader in her early teens and has never stopped. She finds that the fantasy genre explores the truth with the most imaginative depth. Vrinda lived in South India for five years learning classical dance at Kalakshetra, one of the foremost institutes for Bharata Natyam. During that time, she wrote Prince Rama – Son of the Solar Dynasty. The book received an IP award and an honorable mention in the New York Book Show. It was the seedling of The Sita's Fire Trilogy. Vrinda is fluent in Swedish, familiar with Hindi and Sanskrit, and has a degree in English from University of Florida. She lives in Florida with her husband, two children, and extended family.
2:15-3:30 pm: Kirtan Concert with Vrinda Sheth & Visvambhar Sheth, Petros & Friends!
Meet the Musicians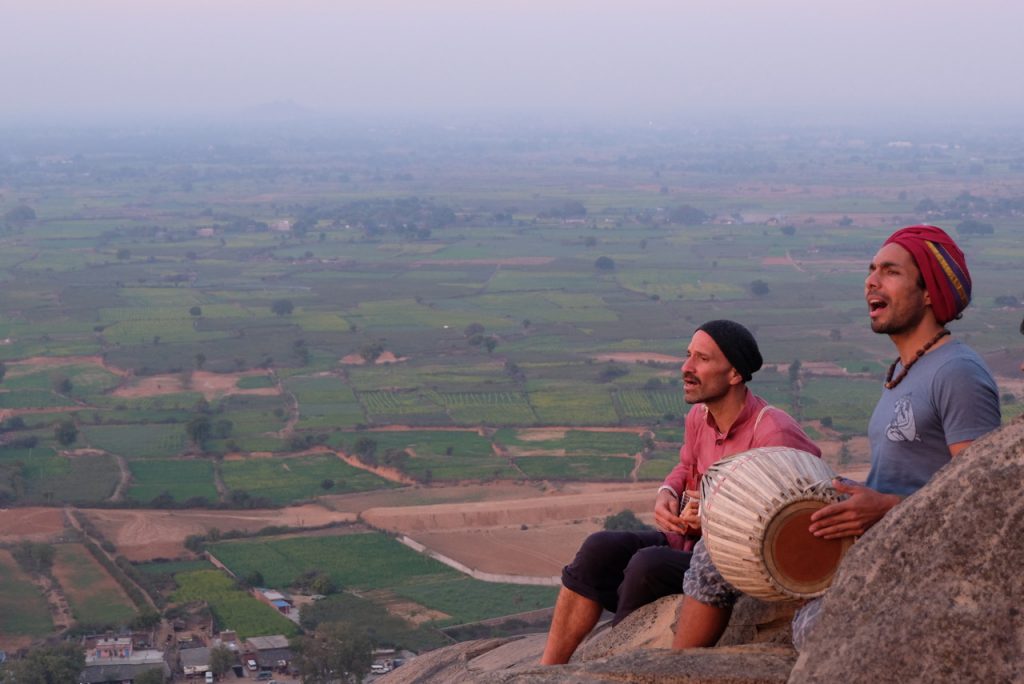 Petros Haffenrichter
Petros (above left), musician, yogi, philosopher, life-artist is a senior Jivamukti yoga teacher, opened his first yoga-school in 2002. He has been a regular guest teacher and performed kirtan in yoga schools of different traditions around the world and at intl.festivals for many years, teaching and lecturing. Asana, pranayama, Nada yoga, and philosophy. Through his present, funny, and deep teaching he has been influential to many practitioners and has taught and educated hundreds of yoga teachers globally.
Visvambhar Sheth
Visvambhar Sheth (above right), starting at the age of 5, he has spent his life leading Kirtans in the ISKCON (Vaisnava) tradition. He is a multi-instrumentalist, and a master of the Mridanga drum and performs in traditional as well as fusion styles. Vish started performing in the modern yoga studio culture 2009, and since then he has performed at countless studio gatherings and well known spiritual venues like BhaktiFest and Omega Institute. Vish has not only mastered his art but has a rare capacity to invoke the 'rasa' of the essence do the transcendental energies that define the Kirtan path.