An exclusive 7-course culinary tasting experience exploring a meditative connection to your Chakras. This limited group event is for the most discerning vegans, at Jivamuktea Cafe, Jivamukti Yoga School. Presented by guest Chef, Tova Sterling. Chakra Meditations led by Jivamukti Yoga teacher.
About Tova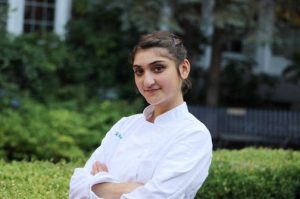 Growing up in Westchester NY, Tova had very little understanding of where food came from. It was only until she moved to Vermont, during her sophomore year of high school that she became very involved in the vegan farm to table movement. She researched veganism and eventually became a speaker and activist for plant-based eating and animal rights. As much as she loved working for non profits organization, she loved cooking more.
In 2016, Tova had the amazing opportunity to attend The Culinary Institute of America, where she graduated with an associates in Applied Food Studies. In between her formal culinary training, she has worked in many different establishments. She started working in small restaurants, making fresh pasta and appetizers. Later, she went on to be a line cook in larger fine dining restaurants and catering companies.
Tova currently works as a freelance private chef in NYC and the tri-state area. She loves what she does because she find so many facets for creative freedom. She also enjoys meeting different and interesting people. Cooking is her passion, but creating an experience is her bliss.