Take responsibility for your own healing and integration from within. Jai and Basia will guide you to the deepest layers of body, mind, and spirit with the use of yoga asana, sound meditation, mantra and yoga nidra. This experience is 50 percent vinyasa yoga and 50 percent mindfulness/relaxation techniques. Wear comfortable clothing and be ready for a deep dive.
45 minutes of Asanas & 45 minutes of stillness
About Basia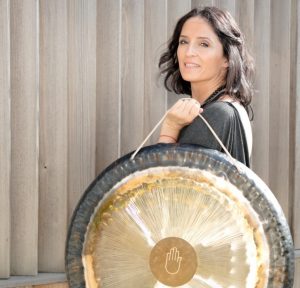 Basia is a classically trained flutist and has been a professional musician for over 20 years. She received her MA in music performance. Her passion for music expanded beyond performing and teaching,as she developed profound interest in learning about healing and transformational affects of sound and music. Basia has studied different modalities of sound healing with teachers such as Grammy nominated Silvia Nakkach, renowned sound theorist Dr. John Beaulieu, the Great Gong Master Don Conreaux, earning a sound practitioner certification from New York's Open Center. She is very passionate and committed to bringing sound and its therapeutic effects to a broader audience. She has private practice, also is a Sound Therapy Practitioner on Open Center's Wellness team and is meditation teacher @ MNDFL studio. Collaborations include: Rubin Museum, NY Yoga + Life Magazine, Conscious Campus, bringing sound work to college students in form of presentations and direct sound experience, monthly sound meditation at Mindful Harlem, Fashion Institute of Technology- series of creative enhancement workshops, the Big Quiet- the mass meditation @ Madison Square Garden, JCC and You Can Thrive- bringing therapeutic sounds to cancer patients and survivors among others.
About Jai
Jai Sugrim is an advanced certified Jivamukti yoga teacher, athletic trainer, public speaker and recognized men's health expert. He has a scientific approach for bringing the human body and mind into harmony. Jai has worked with many professional athletes, including the New York Yankees, during the 2000 and 2001 seasons. He earned a 2000 world series championship ring as the Yankees defeated the Mets in the subway series. As a spiritual guide and health educator, Jai enjoys sharing his healthy lifestyle and the enlightened teachings with students through his international retreats, speaking engagements, teacher trainings, television appearances, one on one coaching, corporate wellness programs, and his writing. He is the creator and host of "Yoga Sutra Now" a 65 episode tv show which aired in 95 million American homes and 20 countries internationally. Jai has been featured on The Today Show, in The New York Times, and Psychology Today. He is grateful for the opportunity to teach practices that lead to self awareness.