The 300HR Teacher Training
ONLINe Spring 2021
300HR Online only Spring 2021
Pre-Recorded in Italy, October-November 2020
On-demand Saturday Jan 30 – Saturday April 30, 2021
Location: Anywhere in the world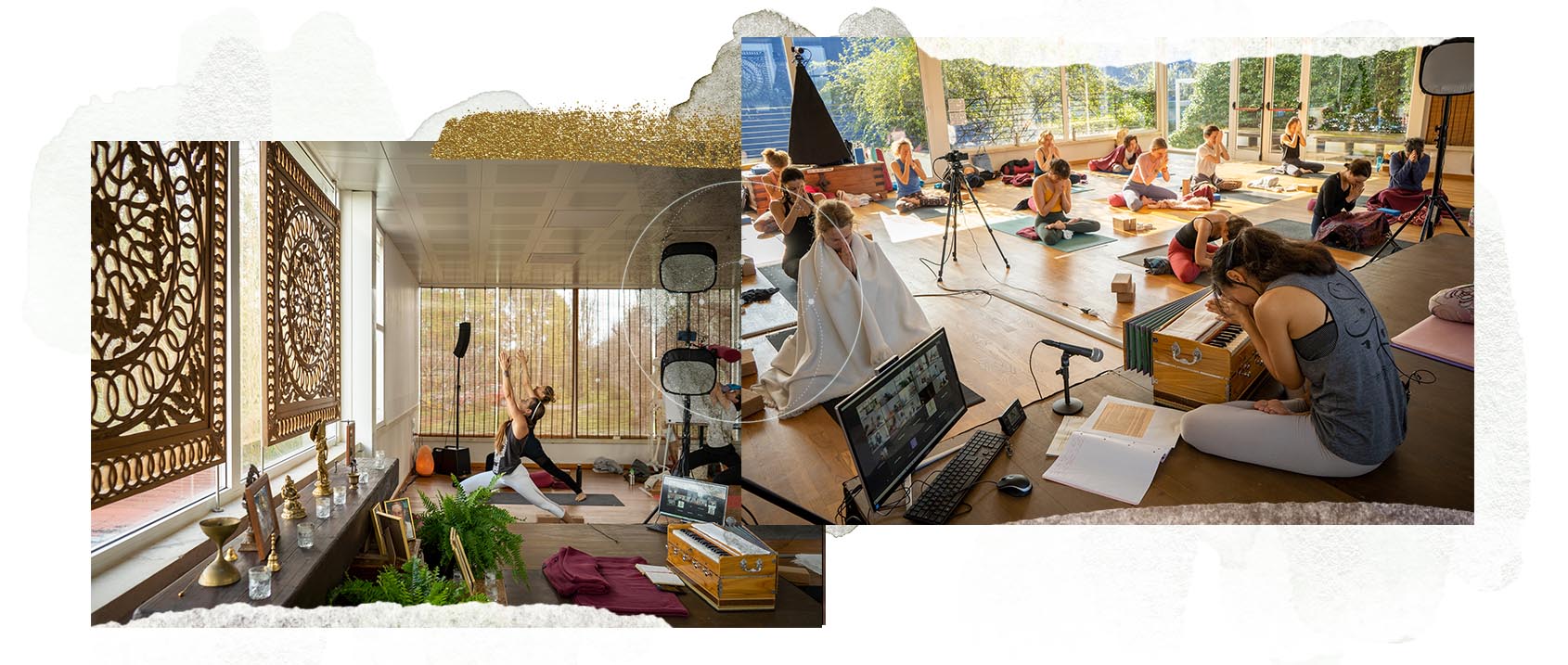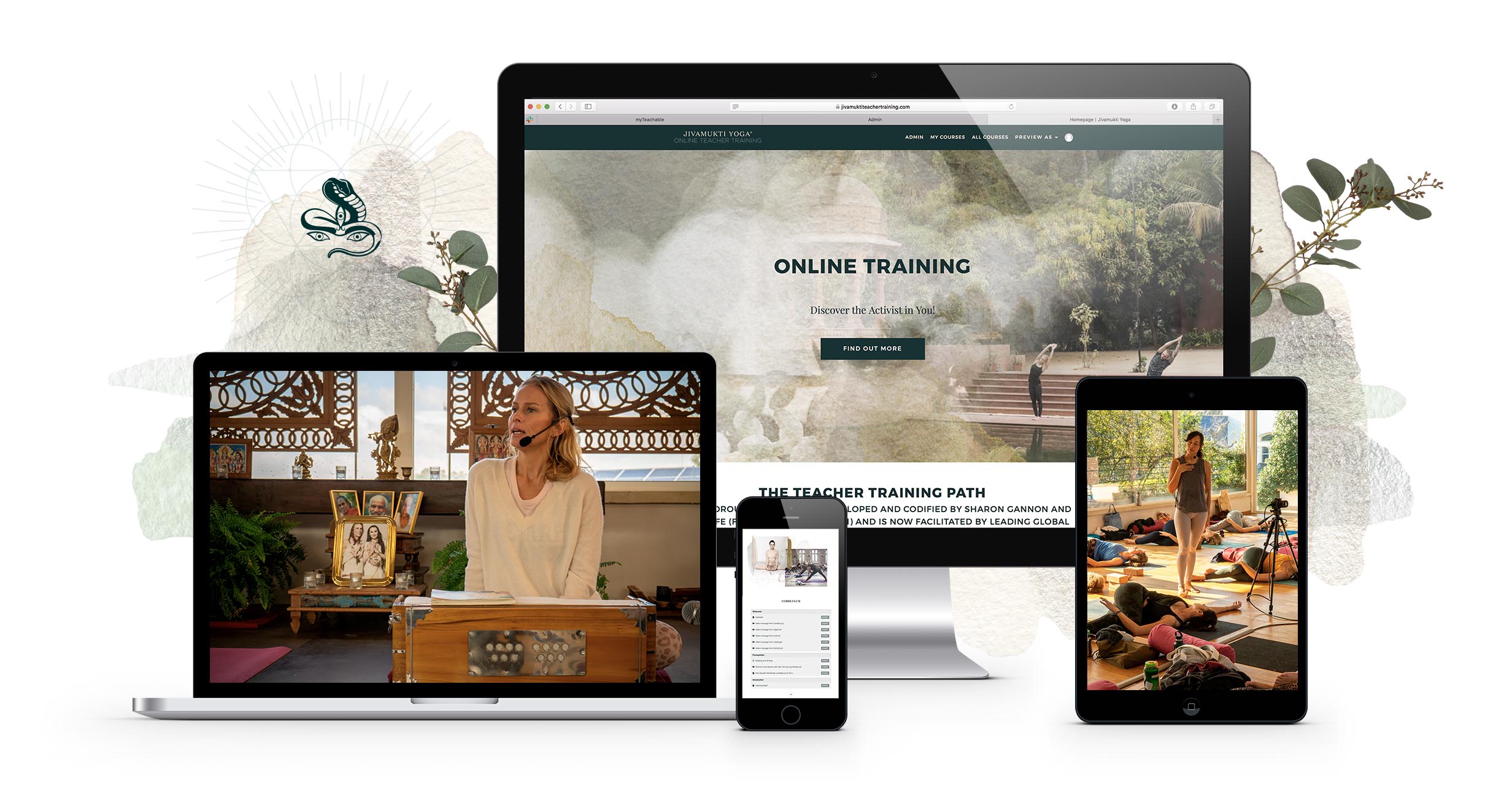 Dates & Deadlines
| | |
| --- | --- |
| Registration Begins | October 1, 2020 |
| Refunds/cancellation allowed (less the $1,500 deposit) | until January 1, 2021 |
| Cancellation possible – non-refundable credit on your Jivamukti Teacher Training account (less the $1500 deposit) to be used for any future 300hr TT | until January 15, 2021 |
| All fees are strictly non-refundable and non- transferable, non-negotiable | After January 15, 2021 |
| Balance Due/Registration ends | January 15, 2021 |
Daily schedule
| | |
| --- | --- |
| 7:00am–7:45am | Breakfast |
| 8:00pm–12:00pm | Class Time |
| 12:00pm–12:45pm | Mentor Group Meeting |
| 12:45pm–1:45pm | Lunch |
| 2:00pm–6:00pm | Class Time |
| 6:00pm–7:30pm | Dinner |
| 8:00pm–11:00pm | Satsang |
MENTOR MEETING DATES
Students will meet in groups with their mentor for about an hour on Zoom on the following Saturdays during the course. These mentor meetings include extra information, discussion, opportunity to ask questions, and valuable feedback, and are compulsory. If a session is missed, a makeup session must be arranged and costs to cover will be the responsibility of the student. Please note the schedule of each mentor below. If you will miss the meeting of your assigned mentor, you are welcome to join another one.
Jutta: Saturdays 10am CET
Ian: Saturdays 1pm CET
Jessica: Saturdays 10am EST
February 6, 2021 covering TT days 1-2

February 13, 2021 

covering TT days 3-4

February 20, 2021 

covering TT days 5-6

February 27, 2021 

covering TT days 7-8

March 6, 2021 

covering TT days 9-10

March 13, 2021 

covering TT days 11-12

March 20, 2021 Midterm 

for all groups 3-5pm CET 

March 27, 2021 

covering TT days 13-15

April 3, 2021 

covering TT days 16-18

April 10, 2021 

covering TT days 19-21

April 17, 2021 Teaching Basics
April 24, 2021 Teaching Warrior to Sage
May 1, 2021

Final Exam for all groups 3-5pm CET 
Tone: as follows
Sunday 6-7pm CET February 7, 2021 covering TT days 1-2

Saturday 11am-12pm CET 

February 13, 2021 

covering TT days 3-4

Sunday 6-7pm CET

 February 21, 2021 

covering TT days 5-6

Saturday 11am-12pm CET

  

February 27, 2021 

covering TT days 7-8

Saturday 11am-12pm CET

  

March 6, 2021 

covering TT days 9-10

Saturday 11am-12pm CET

  

March 13, 2021 

covering TT days 11-12

Saturday March 20, 2021 Midterm 

for all groups 3-5pm CET 

Saturday 11am-12pm CET

  

March 27, 2021 

covering TT days 13-15

Saturday 11am-12pm CET

  

April 3, 2021 

covering TT days 16-18

Sunday 6-7pm CET 

April 11, 2021 

covering TT days 19-21

Saturday 11am-12pm CET

  

April 17, 2021 Teaching Basics

Saturday 11am-12pm CET

  

April 24, 2021 Teaching Warrior to Sage

Saturday May 1, 2021 

Final Exam 

for all groups 3-5pm CET 
Tuition, Scholarships & Payments
The tuition cost of the Jivamukti Yoga 300hr Teacher Training Online is $4000.
About Payment Plans: you are welcome to make up to 3 total payments. All fees must be paid before the program begins. 
Jivamukti Yoga offers scholarships in variable amounts to help offset the costs of JYTT, with the primary criteria to qualify being financial need, based on your income and your household size. Qualified applicants are then evaluated based on dedication and professional commitment to Yoga. Email application to [email protected].
Download Scholarship Application
Transform Yourself with JYTT Online!
We are so excited to offer the online 300HR Teacher Training to anyone, anywhere in the world who wants to become a certified Jivamukti Yoga Teacher by participating in the immersive, dynamic program, in the comfort of your home and at your own pace. For those who can't travel or who can't leave work or loved ones for a month – this is your all access pass into what is considered the most comprehensive certification in the world.
All sessions will be streamed live from the USA and also made available to watch online on-demand to registered students during the duration of the program. 
SPECIAL Bonus material: Original lecture recordings from Sharon Gannon and David Life! 
Online only price is $4000 for tuition with the option to attend a future residential 300HR TT for an additional fee of $2650.  The option will be valid for 5 years.
Scholarships and 75HR TT offsets are offered. For scholarship info please email [email protected]. The full 75h Credit offset is explained in the 75h TT page.
WHAT DOES THIS ONLINE TT OFFER?
A digital empowerment to teach Jivamukti Yoga

More than 100 video and audio files of lectures, practicals, classes and satsang 

A 27 day pdf-workbook

A certificate upon successful completion

Bonus material by Jivamukti Yoga founders Sharon Gannon and David Life (new and exclusive release!)
Frequently Asked Questions
WHAT IS THE DIFFERENCE BETWEEN AN ONLINE AND A RESIDENTIAL 300HR JYTT?
The Online TT gives you the experience of being in the teacher training on-site, but in the comfort of your own home, with the ability to study and review at your own pace. The Online TT allows you to take the course over 3 months, to study and review at your own pace, whereas the residential program is  a consecutive 27 days. For the Online version, you need to find a "student" or "partner" to practice teaching and assisting with at home.
WHAT DO I NEED TO TAKE THE ONLINE JYTT?
Primarily you and your curiosity! Anyone who wishes to immerse in the Jivamukti Method can take this course. The main requirement is to be present. You can find the prerequisites for the 300hr Teacher Training here; the guidelines for how to prepare, how long you should practice asana before you take the TT, etc. are the same. Otherwise, you need a computer, laptop or tablet, a yoga mat and props (min. two blocks, one belt, one blanket). A notebook and pen. One practice student for select sessions.
Platform: You can access the training via a computer, iPad, Android tablet, iPhone or Android phone, ideally with high speed WLAN internet.
Practice: You should have a place to practice and study which is clutter and distraction free, and at least spacious enough to accommodate yourself and your "practice student" safely. You will need a clear space on a sturdy wall at least the width of a yoga mat. You might consider creating a special, devotional space to enhance the spiritual mood of the Teacher Training. There will be optional recommendations given at the beginning of the TT on how to create an altar.
Self Care: Between the lectures, theoretical sections, and meditation, you could be sitting a lot. We recommend you find a comfortable, supported seat. During lectures, you might find a distraction free way of listening and walking. The TT is as mindful as the yoga practice itself. A state of steadiness (support) and an joy (free of pain) is the goal. Take breaks when you need!
DO I NEED TO BE VEGAN DURING THE ONLINE JYTT?
We encourage participants to follow our guidelines to cultivate a healthy vegan diet throughout the intense period of yoga practice during TT and beyond, as they would in the on-site TT. Just as the on-site gives on-site participants a chance to experience the amazing benefits of veganism combined with yoga, online participants will receive an introductory video along with recipies and guidelines to help facilitate that transition with ease and joy. 
WHAT IS MEANT BY AT MY OWN PACE? HOW CAN THE 300HR TT FIT INTO MY SCHEDULE?
You will watch the course "on demand" on a learning platform. There are about 180 lessons total between 20 minutes and 3 hours. They include meditation, asana practice, pranayama, lectures, and satsang. You watch the lessons in order but can do so at your own schedule over the course of 3 months – we recommend that you plan to do at least 2 full TT days over the course of one week to keep up with the content of the mentor meetings. But, you can practice a meditation in the morning, go to work, do the next class later, and so on, so that it works for you.
If you want to experience the pace of the month long JYTT with full training days, you can also do that. Most residential (month long) JYTTs offer a "live on zoom" option, where you can join all or part of the lessons live if you wish. 
WHAT IS REQUIRED OF MY "PRACTICE STUDENT?" DO I NEED THEM EVERY DAY?
You will need another person to practice teach to and practice assisting. Most sessions you'll need your partner for 2-4 hours, and come within the last 2 weeks of the course. But keep in mind for the most part, you can take the course at your own pace so you can find your partner according to your schedule. It doesn't have to be the same person every time, and it doesn't need to be someone else in the TT. It can be a yoga student of any level, including a family member who doesn't ususally practice yoga, which can be helpful if it's hard to find a student outside of your household due to quarantine.
ABOUT SMALL GROUP MEETINGS
Like in the residential TT, all students will become part of a small study group of 2-3 within the same timezone. Over the course of the three months, you are required to meet for a minimum of 20 times on Zoom, or in person if you live in the area, to practice and study together. It can be as short as 15min to review the last lecture or practice chanting. Ideally you would include some asana teaching practice in every session (e.g. teaching each other Magic 10, parts of Class 6 and 7)
Please connect directly via email and arrange yourselves independently via your private zoom accounts or spaces. We require a summary at the end of the TT when you met for how long covering which topics please.
ABOUT MENTOR MEETINGS
The mentor meetings are mandatory, and conducted live on Zoom. Meetings will take 1-2 hours most Saturdays during the course and groups/times will be assigned based on what makes sense with students local timezones. Dates will be published in advance. You will not need your practice student for the meetings.You will also take midterm and final exams during menor meetings on Zoom. If you cannot attend a meeting please notify [email protected] as soon as possible but it should be avoided as much as possible! 
ABOUT EXAMS
Midterm and Final Reviews will be taken via live Zoom calls with your mentor, which takes about 90 minutes total. We will require a full video with audio recording of you teaching Class 6 and 7, showing proficiency with the assists for both classes by the end of TT as part of your final review.
DO I RECEIVE A CERTIFICATE?
Yes, upon 100%  successful completion of all classes, sessions, lectures, and mentor meetings, and passing the midterm and final examinations, you will recieve the same certificate as in-person participants via mail. You will be fully certified as a Jivamukti Yoga Teacher.
Do you have another question?
Not sure if the JYTT is for you?
We would love to hear from you!
We are very happy to answer questions by email, or you are also welcome to schedule a phone call with our friendly team. If you are interested, please write a note about your availability and we will respond to schedule the call.