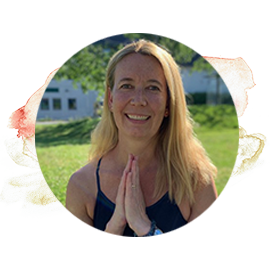 My first experience with yoga was through a course of prenatal yoga, expecting my first child some 20 years ago. Many years later, I started on my yoga journey and began learning and practicing Iyengar yoga and I also did a 50-hour training course. I then discovered Jivamukti Yoga in Stavanger 2016 and have been an active member there since then.
The elements of Jivamukti Yoga have been so important for me, the combination of the mind and physical asanas, music, texts and intention, have given a completeness for practicing. For me this has been an essential part of healing my mind and shifting focus. The more I practice, the more I realize there is to learn and the more I would like to learn about Yoga.
I joined the first ever 75-hr Jivamukti teacher training in Stavanger, Norway, which was facilitated by the amazing Camilla Veen and Tone Overelv , and passed my exam for teaching the Spiritual Warrior class in February 2020.
I am married, have two children, and enjoy yoga, spending time with family and friends, hiking and traveling. In addition to the yoga practice I work full time as an economist.
I have taken elements of the yoga teaching to work- teaching yoga both for my colleagues, family and friends. It would also be great having the opportunity to support and teach more yoga going forward while continuing the journey to develop my practice.
Lokah samastah sukhino bhavantu