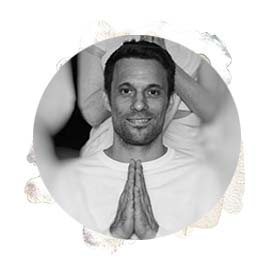 There has always been a burning desire in Thomas to see things as they really are and not as they appear to him or others. He always uses his own experience of intellectual knowledge. So it was no wonder that Yoga found him after necessary detours. After some time of Vipassana meditation, he found himself in an Ashtanga Yoga class and was overwhelmed by the feeling of finding a way to merge body, mind and spirit into one. That was in 2001 and since then yoga has not been limited to his Asana practice. Rather, it has become his philosophy of life, and the most important part of his practice is to live yoga in everyday life in order to create more unity in this world.
As a father and employee in an international company, this is a wonderful challenge.
In the years of practice, the desire to share his practice with others and to experience yoga as a community increased more and more. He then found this in the Jivamukti method and completed the Teacher Training in India.
Over the years, he has been fortunate to meet amazing teachers around the globe who have inspired him to pursue this path. For that he bows in deep gratitude to all his teachers.
Thomas is very excited to sharing his passion and experiences and to walking the path of yoga with you.