Need to de-stress, open up or be pampered in order to truly shine? Try a therapeutic massage in the Prema Room at Jivamukti Yoga New York. Conveniently, centrally located at Union Square, the Jivamukti Yoga School offers an oasis of serenity in the heart of the city that never sleeps. While you're here, join a yoga class or enjoy our boutique of yogi lifestyle goods, or grab a snack or meal Jivamuktea Vegan Cafe. There's no better way to let go of what no longer serves you!  Contact our front desk to inquire about booking a session by calling (212) 353-0214 or emailing info@jivamuktiyoga.com. 
1 Hour Massage
$115
1.5 Hour Massage
$165
2 Hour Massage
$215
1 Hour Reflexology Session
$115

Add 30 min Reflexology 

Additional 1/2 hour Reflexology in addition to another treatment

+$50
Massage Offerings
SWEDISH MASSAGE is used to relax the entire body by rubbing the muscles without deep compression.
TRADITIONAL THAI MASSAGE focuses on the physical manipulation of the body. The primary techniques are acupressure, compression and passive range of motion. In the Traditional Thai massage view, a person's life force travels along energy pathways known as Sen lines. Its believed that there is a direct correlation between physical and energetic imbalance expressed in the body. 
DEEP TISSUE MASSAGE focuses on realigning deeper layers of muscles and connective tissue. It helps relieve chronic aches and pains and release stiffness and muscular tension.
REFLEXOLOGY is a body therapy in which palpation, thump and finger compression is applied to specific reflex points on the feet and hands that relate to organs, glands and systems of the body. Reflexology is based on the theory that persistent pressure opens up energy blockages and breaks up accumulated matter. In a Reflexology session the client lies on the table and remains fully clothed except for bare feet, legs and arms. Cream or oil may be applied during the session.
CRANIAL SACRAL THERAPY MASSAGE is a gentle, noninvasive form of bodywork that addresses the bones of the head, spinal column and sacrum. The goal is to release compression in those areas and alleviate stress and pain.
MEDICAL MASSAGE is primarily the application of a specific treatment targeted to help heal or alleviate a specific health issue or pathology.
PRENATAL MASSAGE is therapeutic bodywork that focuses on the special needs of the mother-to-be as her body goes through the dramatic changes of pregnancy. It enhances the function of muscles and joints, improves circulation and general body tone, and relieves mental and physical fatigue.
SHIATSU MASSAGE involves manual pressure applied to specific tsubo points on the body in an attempt to relieve tension and pain. It also releases blockages of energy from within, but the practitioner must know in advance the specifics of what accomplishment is desired.
SPORTS MASSAGE is a form of bodywork geared toward athletic people. It is used to help prevent injuries, to prepare the body for and recover from athletic activity and to maintain it in optimal condition for workouts, sports, and physically demanding activities.
Our Massage Therapists

Carmen Karpel, LMT
Treatments: Swedish, Deep Tissue, Reflexology, Thai Massage
Carmen combines the modalities of Swedish and Thai massage to create a full-bodied experience of deep relaxation. Upon assessment of her client's physical needs, she personalizes each session to skillfully move energy throughout the body, releasing both physical and energetic blockages. Each session is individualized with soothing music and hypoallergenic oils that rejuvenate the skin with vital nutrients. She specializes in manipulation of soft and connective tissue with the intention of improving health by affecting change in circulation, nerve response, and pattern of energy flow.
Carmen is experienced in Swedish massage, Myofascial Release, Cranial Massage, Reflexology, Neuromuscular Massage Therapy, and Thai Massage. Carmen has studied at the Swedish Institute for 1000hr and completed 645 hours of Massage Therapy Certification at Educating Hands of Massage in Miami, Florida. She studied Thai Massage in Thailand at The WATPO Traditional Medical School.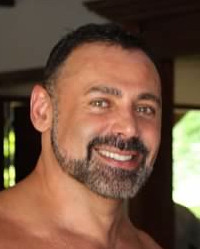 Franco Castiglione, LMT
Treatments: Swedish, Deep Tissue, Sacral Cranial, Medical, Prenatal, Reflexology, Shiatsu, Sports, Thai Massage, and Reiki
Franco is a hands on healer, who graduated from the country's finest Massage School; The Swedish Institute of Massage Therapy and Applied Health Sciences, here in New York City. He's been working in the field for many years and is regarded as one of the finest massage therapists in New York City.
Franco has vast experience with several different modalities of massage, including Swedish, Deep Tissue, Sports, Medical, Thai, Reflexology, Shiatsu, Prenatal, Cranial-Sacral, Hot and Cold Stone, and several others. He is also certified in Nutrition and Personal Training, and sometimes adds a touch of Reiki to his sessions. Sessions also can include body assessment, alignment, moisturizing, and aromatherapy.
 Sabine Garcia, LMT
Treatments: Swedish, Deep Tissue
Sabine sees her work as a dance between practitioner and client. She believes that the body holds a wisdom of its own, and that through bodywork and yoga we can get in touch with the stored potential within and activate the healing powers which reside in all of us. Awareness is a portal: through the realization of the self, we are able to transform our lives in positive ways. Sabine feels blessed to be able to assist each client toward greater balance, well-being and heightened awareness.
Sabine has been practicing the art of massage therapy since 2006 in a variety of settings from Ayurvedic spas to medical clinics working with cancer patients. Her interest in the body-mind-spirit connection have led her to hone her awareness and sensibility through complementary studies and exploration of Yoga, Psycho-Analysis, indigenous Shamanic work and Ayurveda. This enables a more open, intuitive and holistic perspective in her work. She uses organic oils to nurture the skin and her sessions are infused with elements of Swedish and Ayurvedic massage, Deep Tissue techniques, Myofascial Release and Aromatherapy.