Apprenticeship
THE 500HR JTAP
The Jivamukti Yoga Teacher Apprenticeship Program (JTAP)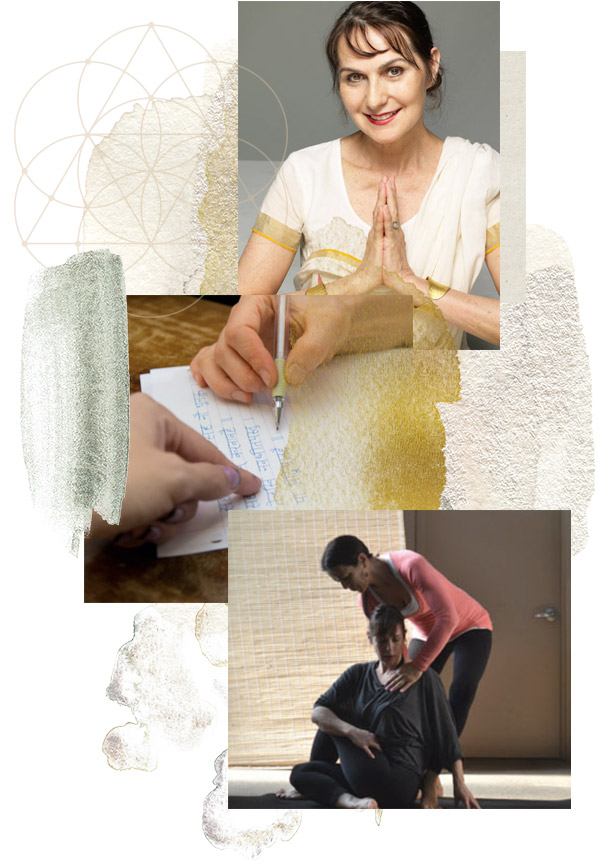 The Jivamukti Teacher Apprenticeship Program ("JTAP" or "the Apprenticeship") is a mentored curriculum augmented by mentored teaching, practice, self-study and additional workshops, combining for a total of 500-plus hours of training. When combined with the 300-Hour Jivamukti Yoga Residential Teacher Training Certification Course, this program certifies 800 hours of training. The apprentice/mentor system enhances practical teaching skills, directs independent study, and integrates an asana and meditation practice schedule that contributes to professional enhancement and the deepening of sadhana. Certification is granted to those individuals who fulfill JTAP's requirements to the satisfaction of their mentor. This program is only offered at authorized Jivamukti Yoga Centers ("Host Centers") worldwide. This level of certification allows teachers: to call their classes Jivamukti Yoga Classes (in accordance with the Jivamukti Yoga Teacher Certification Agreement); to advertise and list themselves as an 800-Hour Certified Jivamukti Yoga Teacher; to be listed on the Jivamukti Yoga web site as a current Jivamukti Yoga 800-Hour Certified Teacher.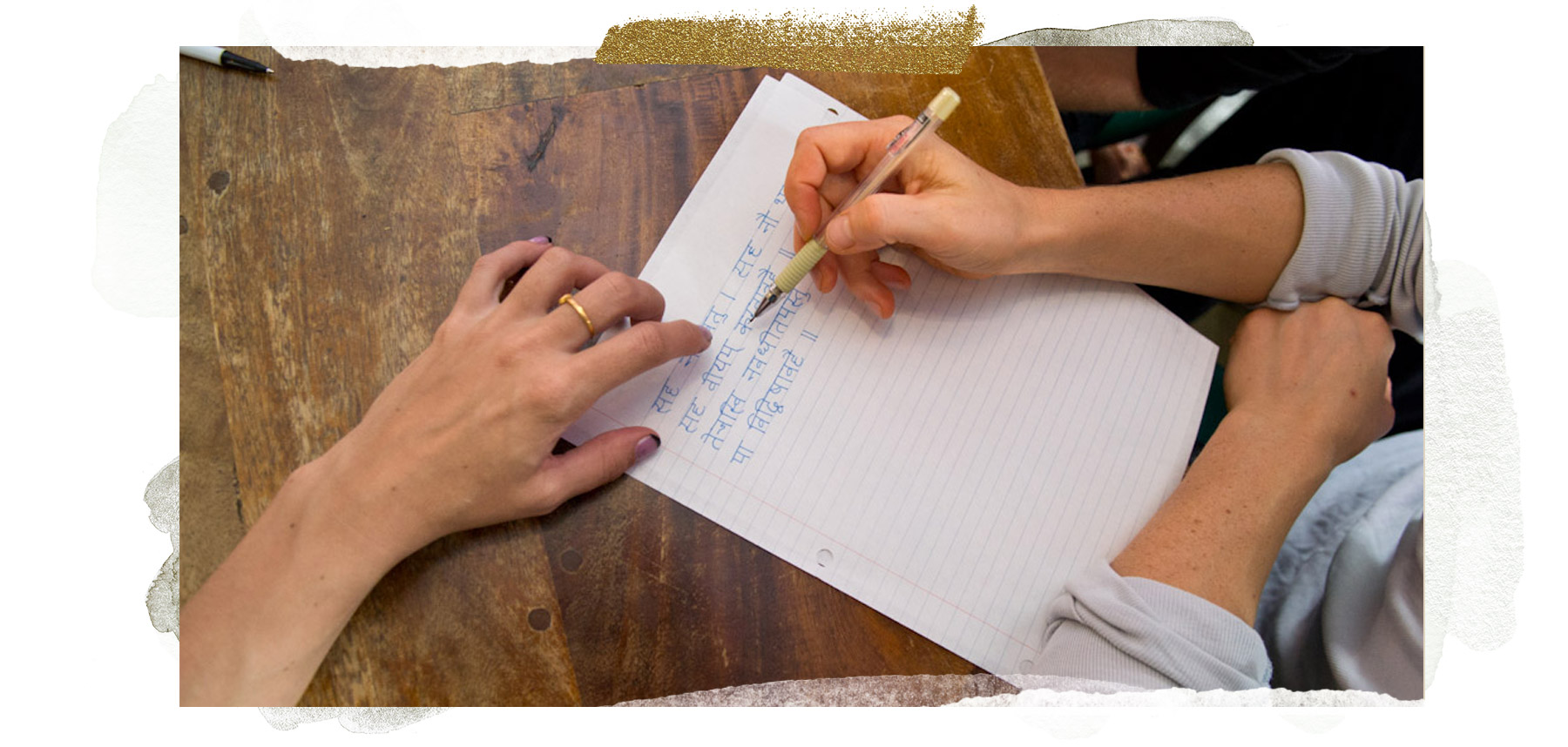 OVERVIEW AND PURPOSE OF THE JTAP
What is The Purpose of the JTAP?
The purpose of the Apprenticeship is to build professional level teaching skills and to deepen sadhana. The Program seeks to develop Jivamukti Yoga 800-Hour Certified Teachers who:
 Integrate daily yoga asana and meditation practice;
Are professional, experienced and confident;
Are building a clear and precise teaching style in alignment with Jivamukti Yoga methods;
Teach from a solid foundation in the Five Tenets of Jivamukti Yoga;
Are knowledgeable about the history, tradition and language of Yoga.
HOW DOES THE APPLICATION WORK?
When deciding to apply for the JTAP the future apprentice needs to approach Jivamukti Global. If they want to make a formal application for the JTAP, an admin fee of 250 USD needs to be paid to Jivamukti Global. Jivamukti Global will then send out all the necessary documents and logs to the apprentice so that they  can cover the necessary prerequisites. Please access the application here: http://www.regpack.com/reg/jtap
THE 2 PARTS OF THE JTAP
The JTAP is done in 2 parts. Part 1 is done mostly as self-study, where as part 2 is done with a mentor at a full program Jivamukti Yoga Center.  This gives you the opportunity to fulfill part 1 almost anywhere in the world without moving to a city with a Jivamukti Yoga Center. Please keep in mind, that for part 2, which is 4 months long,  it is necessary to live in a location where there is a Jivamukti Yoga centre.
Here is an overview of all the hours which are accredited towards the certification process of the JTAP:
| | |
| --- | --- |
| | Total JTAP Hours |
| Prerequisite Phase (PART 1) | |
| Attend 88 Jivamukti Open Classes | 132 |
| Attend 10 Spiritual Warrior Classes | 10 |
| Attend 12 Jivamukti Basic Classes | 18 |
| Sanskrit and Scriptual (self-) study | 48 |
| 20 In-Class Privates (receive 10/give 10 ) | 30 |
| 4- MONTHs LONG  APPRENTICESHIP CURRICULUM (PART 2) | |
| Classroom apprenticing | 54 |
| Preparation of lessons | 48 |
| Mentor conferences | 24 |
| 4 In-Class Privates with Mentor | 6 |
| 20 In-Class Privates (receive 10/give 10 ) | 30 |
| Three test classes: one Open class, one Basic class and one Spiritual Warrior class | 4 |
| Within 16 months after registration | |
| Jivamukti Yoga workshops, retreats, and classes presented live and taught by Sharon Gannon, David Life or other current facilitators of the 300 hr teacher training program. | 30 |
| Satsang attendance | 18 |
| Meditation practice | 63 |
| TOTAL HOURS | 515 |
PART 1: PREREQUISITES - GET EXPERIENCE (WITHIN 12 MONTHS AFTER REGISTRATION)
There are different requirements that need to be fulfilled within this phase, in order to move on to part 2 of the JTAP:
1. You need to take all necessary Open, Basic (100 in total, whereof at least 12 Basics) and Spiritual Warrior Classes (10) in any Jivamukti Yoga Center, affiliate studio OR with Advanced Certified or 800 hr Certified Jivamukti Yoga Teachers. The apprentice has a document (Asana Class Attendance Log) to be signed by the teachers teaching the classes. These classes need to be paid by the future apprentice.
A maximum of 50 asana classes can be done online on the Jivamukti Yoga Digital platform. The apprentice should keep a record of these digital classes and put them in the Asana Class Attendance Log as described above.
2. You need to give/receive 20 ICPs during Jivamukti Open Classes (giving 10 (at least 5 to a cert. Jivamukti Teacher) and receiving 10)  (Adapted Doc 10 of the JTAP Manual) The first ICP you give and receive must be exchanged with a current facilitator or mentor of the 300h Jivamukti Yoga TTC, or a  current mentor of the JTAP at a Jivamukti Yoga School.
3. You need to have your own study of yoga philosophy and Sanskrit studies during this period. You need to document at least 48 hours of studies. Using the document  "Sanskrit and Scripture Studies" will be necessary in order to proof the fulfillment of this prerequisite. We have prepared a reading list for you as well as sample lessons for  your Sanskrit studies. You could optionally also take workshops or courses on the topics of Yoga philosophy and/or Sanskrit. These courses are at your own expenses and not covered by the tuition.
4. Within the first 2 months after having registered you need to secure a mentor at a Jivamukti Yoga Center, you could also do this before registering. Please contact the program director of the school from the list below in the last section to find out which mentors are available.  Please take time to choose your mentor, as you want to choose a mentor where you feel you could  easily emulate their teaching style during the time of the mentorship.
5. You need to familiarize yourself with the teaching of all elements of the Basics Class curriculum, as you are expected to teach al of them during the mentorship. You should prepare possible different options of how to sensationally teach any of the Asanas presented in the Basics curriculum as well has have a deep understanding of the alignment of each of the asanas.
6. The future apprentice must have completed at least 90% of the prerequisite phase before they begin Phase 2 – Get Mentoring. Phase 1 must be completed in a maximum of 12 months. There is no minimum timeframe.
PART 2: JTAP - MENTORING ( 4 MONTHS LONG)
Immediately after having finished part 1 you will start the mentoring with your chosen mentor. You will also receive the JTAP – Student Manual, which will provide you with the detailed lessons, which you need to pass during this phase. The consist of teach short different parts of Basic and Open Classes during the class of your mentor. They will then give you feedback on the lesson and will let you now if you have passed them or need to redo them. It is possible to teach multiple lessons in one class. Please make sure you are preparing these lessons well during part 1 of the JTAP so you can make sure that passing the lessons is more likely.

   

You will have to exchange 4 ICPs with your mentor. 2 at the beginning of your mentorship and 2 at the end.
You will have to give/receive 20 additional ICPs during Open Classes during part 2 of the JTAP. 10 of them need to be given to regular students or cert. Jivamukti Yoga teachers (at least 5) and 10 need to be received be cert. Jivamukti Yoga teachers. Even though, teachers often offer these in exchange for receiving one, it is up to you to organize these, and possible charges are not included in the tuition of this training.
The apprentice should accomplish this within a maximum of 8 months after the enrollment meeting. It is highly recommended to not split up the 4 months mentorship period. However, if the apprentice and mentor agree to split up the time they work together,

each

active mentor period must be at least one (1) month long.
ADDITIONAL REQUIREMENTS (WITHIN 16 MONTHS AFTER REGISTRATION)
During a maximum of 16 months after registration you need to fulfill the following:
You need to document at least 63 hours of meditation. Please use the "Daily Meditation" Document

 

to keep track of your daily meditation. It is strongly suggested to meditate for at least 15 minutes every day using the Mantra "Let Go", or "Shri Krishna Sharanam Mama".
You need to attend 30 hours with current facilitators of the 300 TTC.
You need to document at least 18 hours of partaking

 

Satsang. These could be official Satsangs at Jivamukti Yoga Centers, or Kirtan concerts, Mantra chanting events or similar events.
TEST CLASSES
The latest 2 months after finishing all the assignments of the mentoring phase you need to take and pass 3 test classes. One open class, one Basic class and one Spiritual Warrior Class. Your mentor will give you feedback and will let ou know if you passed or need to retake them.
TUITION AND FEES
The range for the JTAP tuition is USD $4-5 000.00 (which includes the 250$ registration fee) or equivalent in non-US currency plus possible additional local taxes depending on the area. The tuition will be set and fixed by each school for each upcoming year. Please check with the studio you are considering apprenticing at, what the exact tuition is.
A fee of USD $ 250 is payable to Jivamukti Global at the time of registration. This should be done directly by the apprentice. The additional payment is due and payable to the Program Director at the Host Center at the beginning of the 4- months intensive apprentice (mentoring) period.
There could be additional costs for receiving the necessary ICPs. Especially the first one that needs to be exchanged with a current team of the 300h TTC. Most of the times apprentices were able to negotiate a free exchange of ICPs with Jivamukti Yoga Teachers, but keep in mind that they are not obligated to agree to this. The necessary ICPs that you need to exchange with your mentor are included in the tuition.
REFUND POLICY
After the apprentice has started the intensive apprentice period with the mentor and has paid the tuition in full, there will be no refund.  The registration fee of 250$ is non – refundable.
COMPONENTS OF THE JTAP
ICP
In-Class Privates are unique to Jivamukti Yoga. Your hands become the tactile aspect of the teacher's voice. Your touch (not your voice) should be constantly instructing the student and each private should end with a deep and thorough final relaxation massage. When giving and receiving ICPs, remember that you are developing your knowledge and skills of working with the subtle body (energy flows, breath, nadis, etc.) as well as the physical body, and all assists should be focused on both the subtle and physical bodies. Your mentor should provide instruction and guidance on this to help you deepen your embodiment of this knowledge with each ICP you give or receive.
Sanskrit and Scriptural Study Requirement
The Sanskrit and scriptural study requirement (48 hours) is an important component of the Apprenticeship program. Sanskrit is the language of Yoga and of our lineage. Shri Brahmananda Sarasvati and Sri K. Pattabhi Jois were both Sanskrit scholars. Studying Sanskrit opens the mind to a different way of perceiving the world. It helps us learn better pronunciation of asana names and key terms. Also, knowing more about Sanskrit can help you answer your students' questions better and more fully. By completion of your apprenticeship, you must be able to read, write and pronounce the entire Devanagari alphabet and read, write and pronounce key terms that are used often in the Jivamukti community (such as Jivamukti Yoga, the 5 tenets, asana, the eight limbs of Yoga according to Patanjali, including all the yamas, and any other terms your mentor may require). You must also be able to read, write and pronounce the transliteration scheme that is laid out in the Jivamukti Chant Book, and you must be able to properly pronounce all of the sutras and slokas that are contained in the Chant Book. Your satisfaction of these requirements will be determined by your mentor in whatever way she or he thinks appropriate. The one hour per week (at least) that you devote to this study can be done with your mentor, with other teachers and/or apprentices, with qualified teachers outside the Jivamukti community, or on your own.
Satsang
Your Mentor will teach you the skills that you need to present satsang yourself and serve the gathering. But in addition, you should assist at least half of the satsangs you attend so that you can practice those skills. Preparing prasad, conducting aarti, singing kirtan and leading meditation are all skills that enhance your devotional life and contribute to your becoming a better yoga teacher. Notify your Program Director that you are available to assist satsang. The Center Director will help to schedule your participation. Although you can attend events outside your Host Center for this requirement, we would urge you to support the Host Center satsang and assist as much as you can at the Host Center. Record hours for each event and obtain teacher/facilitator signature, or other person of responsibility. If event is at a location other than Host Center obtain photos, receipts, brochures or other evidence of attendance.
CONTACT OUR INTERNATIONAL PROGRAM DIRECTORS FOR INFORMATION
Jivamukti Yoga Barcelona
Program Director – Olga Oskorbina, info@jivamuktiyogabarcelona.com​
Mentors – Maria Macaya (English, Spanish), Rebeca Recatero (English, Spanish), Karina Gusalova (English, Spanish), Mitchell Burnett (English), Patricia Vidal (English, Spanish), Olga Oskorbina (English, Spanish)
Jivamukti Yoga am Engel, Munich
Program Director – Karoline Straubinger, karoline@jivamuktiyoga.com
Jivamukti Yoga Hṛdayam Bern
Program Director – Clare Nicholls info@hrdayam.ch
Mentors – Clare Nicholls (English)
Jivamukti Yoga Luxembourg
Program Director – Magali Lehners, info@jivamuktiyogaluxembourg.com
Mentors – Magali Lehners (English, German, French), Alexandra Colombo (English, Italian, French)
Jivamukti Yoga Material Moscow
Program Director – Anna Lunegova, alunegovamaterial@gmail.com
Jivamukti Yoga Paris
Program Director – Ian Szydlowski, iszydlowski@gmail.com
Jivamukti Yoga Stavanger
Program Director – Terese Arildsdatter Riis, terese@jivamuktiyoga.no
Mentors – Camilla Veen (English, French, Norwegian/Scandinavian), Tone Overelv (Norwegian, English)
Peace Yoga Berlin – A Jivamukti Yoga School
Program Director – Moritz Ulrich, info@peaceyoga.de​
Mentors – Philippa V. Heyden (German/English), Rebecca Randak (German/ English), Dana Sertel (German/English)
PROSPECTIVE MENTOR QUESTIONNAIRE
This is a questionnaire that every prospective mentor has to fill out to become a mentor of the 800-hour JTAP program. It is also a guideline for you what to look for in your future mentor. At the completion of the apprenticeship, your apprentice will be given a questionnaire that covers many of these points to ensure that the apprentice comes away with a deeper understanding of how to teach classes in the Jivamukti Yoga method.
• Do you understand and do you feel confident helping your apprentice understand the importance of extending compassion to other animals and not to exploit them for any purpose and how ethical vegetarianism (veganism) is an important step in spiritual development. Can you help your apprentice develop ways of expressing this in a classroom situation?
• Do you teach the focus of the month in every open class?
• Do you have a foundational understanding of the 5 Tenets, and are you able to transmit to your apprentice how to incorporate them into an open class using the focus of the month?
• Can you teach your apprentice how to safely, creatively and inspiringly sequence and time an open class according to the 14 points?
• Have you embraced the meaning of the term "asana" as developing a mutually beneficial relationship to the Earth and all beings?
• Do you have an understanding of good, safe alignment within the context of your own asana practice, and are you able to impart that understanding to your apprentice so that they develop that understanding for themselves in their own body?
• Do you have a deep understanding of the chakra system, including the bija mantras and the asana and karmic relationships associated with each chakra, and can you impart that understanding to your apprentice?
• Do you understand the directional flow of energies in asanas as that relates to giving hands-on assists, and can you impart that understanding to your apprentice?
• Can you read, write and pronounce the entire Devanagari alphabet, as well as key terms such as "Jivamukti Yoga" "Shri Krishna Sharanam Mama", and can you teach this to your apprentice?
• Can you properly pronounce (according to the transliteration notes) all of the chants that appear in the Jivamukti Yoga Chant Book, and can you teach your apprentice how to do this?
• Do have a deep understanding of the Magic 10 and the Basics Class warm-up, which is the first six exercises, and how to teach them, and can you teach this to your apprentice?
• Do you have a deep understanding of the term "vinyasa" and how to teach strict vinyasa in an open class, and can you impart this understanding to your apprentice?
• Do you have a deep understanding of how to use recorded music and/or spoken word and/or silence in a classroom setting, and can you impart this understanding to your apprentice (including how to use the sound system and microphone in the classroom)?
• Can you provide the skills and inspire confidence in your apprentice to enable them to teach a Jivamukti Yoga Open class, Basics class and Spiritual Warrior class?
• Do you have a daily meditation practice using your initiation mantra (Shri Krishna Sharanam Mama), and can you help your apprentice deepen their daily meditation practice using that mantra?
• Can you help your apprentice learn how to teach the Jivamukti Yoga meditation method, including the 3 steps and using the mantra LET-GO?
• Do you know the 3 qualities that make a good yoga teacher according to Shri Krishnamacharya (which are lineage, daily practice, sincere liking other people) and can you share your understanding of them with your apprentice?
• As a mentor you realize that your connection to the source of the teachings is valuable to you and your ability to pass these teachings on, so for that reason do you study with Sharon and David in person, spending at least 10 hours every year in their live presence receiving teachings?
READING SUGGESTIONS
Books by Sharon Gannon and/or David Life
Yoga Sutra of Patanjali
Bhagavad Gita and Mahabharata
The Living Gita

 by Swami Satchidananda

The Bhagavad Gita

 by Winthrop Sargeant

Gita Wisdom by Joshua Greene

The Mahabharata, a modern rendering in two volumes, by Ramesh Menon
Hatha Yoga Pradipika and Hatha Yoga
Books by Brahmananda Sarasvati
Books by Swami Nirmalananda
Nada Yoga
The World is Sound Nada Brahma by Joachim-Ernst Berendt

Nada Yoga by Shri Brahmananda Sarasvati
Bhakti Yoga
Veganism and Activism
Anatomy and Asana
Jnana Yoga
Be Here Now

 by Ram Dass

I am That by Sri Nisargadatta Maharaj

Loving what Is by Byron Katie
Buddhist Tradition
Foundations of Tibetan Mysticism

 by Lama Anagarika Govinda

The Tibetan Book of Living and Dying by Sogyal Rinpoche

The Tibetan Book of the Dead translated by Prof. Robert A.F. Thurman

The Diamond Cutter by Geshe Michael Roach

The Life of Milarepa

 by Lobsang P. Lhalungpa
Sanskrit Studies
Enyclopedias
The Yoga Tradition

 by George Feuerstein

Encyclopedic Dictionary of Yoga by Georg Feuerstein
Original Scriptures
Vasistha's Yoga by Venkatesananda

Mandukya Upanishad by Brahamanda Sarasvati
Mysticism
Stories and Novels
An Offering of Leaves by Ruth Lauer-Manenti

Fell in Her Hands by Ruth Lauer-Manenti

Sweeping the Dust by Ruth Lauer-Manenti

Life and Teachings of Ananadamayi ma by Dr. Alexander Lipski

The Myths and Gods of India

 by Alain Danielou

While the Gods Play by Alain Danilou

Ishmael by Daniel Quinn
FAQ
How do I get a Mentor?
Speak with the Program Director at your preferred JTAP Host Center. The Director will supply you with a current list of qualified Mentors. Please do so during the prerequisite phase. Review the list of possible Mentors with an eye to selecting a Mentor whose teaching truly inspires you. This must be a teacher you fully respect and from whom you can take critique (both positive and negative) with an open heart and mind. You will be expected to emulate your Mentor's successful teaching style. Selecting a Mentor randomly, for example merely to start the Apprenticeship at a certain time or because that Mentor's teaching schedule is convenient to you, is not an acceptable criterion. See the Prospective Mentor Questionnaire in this manual to get a sense of what qualifies a teacher to be a mentor and what you can expect to learn from your mentor through this program.
I've chosen a Mentor. How do I approach him/her?
If possible, informally discuss with your prospective Mentor your intention to become their Apprentice. You must next write her or him a Letter of Intention. The letter should be​ no longer than one page. It must state why you want to work with that Mentor, why you want to go through the Apprenticeship, the time frame during which you propose to complete the program and what you want to do once you become an 800-​Hour Certified Jivamukti Yoga Teacher​. After the Mentor has reviewed the letter, he or she may ask to speak to you in person in order to reach a decision. Once the Mentor has agreed to take you on as an​ Apprentice, you must get together to discuss and write down a realistic Apprenticeship schedule, taking into account expected holiday travel, as well as leaving space for the unexpected. At this time, the Mentor will show you his or her copy of the Complete Program Guidelines. ​Read it in the presence of the Mentor and discuss any questions you may have regarding the curriculum, guidelines and/or agreements. The Mentor will then write you a Letter of Acceptance, including in it the mutually agreed upon.
Apprenticeship start and finish dates. With this second document in hand, and your records from the self study period, you may arrange an enrollment meeting at the Host Center with your Mentor and the Program Director. At enrollment, the Program Director will review and confirm the Apprenticeship dates with you and your Mentor and append them to the Doc. 5 JTAP Mentor and ​ Apprentice Agreement​ .​
Do I need insurance to be an apprentice?
Yes. You must have Current teachers liability insurance listing the Host Center as an "additional insured." You will need to bring proof of this insurance to the enrollment meeting to give to the Program Director for the Host Center. Keep a duplicate copy of this insurance document for your file. Questions about this professional liability insurance can be directed to the Program Director or your prospective Mentor. Ple​​ase note that there might be different legislation depending on the country where your host studio is operating.
How many mentors may I work with?
You may only work with only one Mentor.
Can I transfer to another Mentor?
Only during the first week of the intensive apprenticing period. You must secure your own alternate Mentor, and the Program Director must authorize this change.
When can I begin?
At any time after your successful completion of the 300-​Hour Jivamukti Yoga Teacher Training​, and within 2 months after you registered with Jivamukti Global and started your self study period, you may begin the process of securing a Mentor as described above. A JTAP Host Center may choose to offer ongoing open enrollment, or to enroll only during specific times of the year.
How long is my apprenticeship?
Apprentices have a maximum of 16 months (plus one month to teach the test classes) to finish the program from the time that the apprentice registered with Global and started the self study period. In the event that the program is not completed within this limit you risk forfeiting your hard work. You should make sure that your schedule is reasonable and kept current. In the event that the program is not completed because of Mentor availability or unforeseen circumstances, the Program Director will arbitrate a suitable reconciliation.
How many In Class Privates (ICP) will I have to give and receive?
Two between you and one of the current facilitators, four between you and your mentor and an additional forty between you and other Jivamukti Yoga teachers and students. Also please note that an ICP does not count toward the minimum class attendance.
Will the Apprenticeship include pre/post-natal or kids yoga training?
No, it will not include modules in prenatal, postnatal, or kids classes, nor for any other Jivamukti class beyond Basic, Open And Spiritual Warrior.
Do I finish my Basic apprenticeship before I begin my Open?
No. Your Mentor will work with you on both the Basic and Open curriculums simultaneously.
How strictly will I be held to my attendance compliance?
You will be expected to adhere to the attendance requirements. At your enrollment, you negotiate with your Mentor a realistic schedule and term, taking into account expected holiday travel, as well as leaving space for the unexpected. If you have any doubt about your​ ability to keep up with the JTAP's schedule, please refrain from enrolling at this time.
What is the JTAP's expulsion policy?
At any time the Program Director reserves the right to expel an Apprentice based on noncompliance with program requirements, recommendation of the Mentor or for actions unbecoming a Jivamukti Yoga teacher.
What is the JTAP's readmission policy?
If you take a leave of absence and fail to complete the JTAP in 18 months, your JTAP file will be closed. It is the prerogative of the Program Director to allow the re-opening of a closed JTAP file. Conditions for readmission would be established according to individual cases and subject to final decision by an agreement between the Program Director, the director of the Host Center and Jivamukti Inc.
What if I get sick?
Let your Mentor and Program Director know. Your attendance will be suspended until you are well again.
I'm struggling to meet my attendance requirement and can't keep up. What to do?
Meet with your Mentor and Program Director and review your schedule and term. Remember, you must complete the program in 48 weeks.
I have a personal emergency and cannot continue the JTAP at the Host Center for an extended period of time. What should I do?
Inform the Program Director and your Mentor immediately. A leave of absence can be arranged in most circumstances. Mentors have the right to enroll another Apprentice in "your" slot. You may have to wait your turn in order to continue with the Mentor.
I travel a lot. How can I meet my class attendance requirement?
You have committed to undertake program requirements within the scheduled time.
Jivamukti class DVDs are an acceptable substitute for a live class when traveling​ . Also, Jivamukti Yoga classes and workshops are now offered worldwide, and these may be substituted for classes at the Host Center. To validate the DVD classes you take, please write the name and title of the video class into your Class Attendance Log (e.g., "Balancing, Sharon Gannon"). Where teacher signature is required write the DVD Class number (e.g.,"#6"). To validate a Jivamukti class or workshop given at a location other than the Host Center, include the date, name and type of class, as well as the Jivamukti Yoga teacher's name. Be sure to have the Jivamukti Yoga teacher sign your Class Attendance Log. Attendance at a live class is preferred to a DVD class. Taking a DVD class should be done only in an emergency in order to meet the minimum requirement. If your mentor feels that you are substituting an excessive number of DVD classes for your 5 class per week minimum, they have the right to ask you to stop and be present for more live classes.
What about vacation time and personal days?
Apprentices are allotted fifteen15) Vacation Days for the duration of their Intensive Apprentice period . You are required to notify your Mentor in advance when leaving town for an entire week or more to arrange for Vacation Day approval. Extensive travel and continuous failure to meet the attendance requirement will lead to expulsion from the JTAP.
What gatherings count as satsang, and do they have to be hosted at the Host Center or School?
All gatherings of people who remind us of our True potential are satsang. But for the purposes of JTAP attendance requirements, satsang must include one or more of the following:
• Kirtan;
• Programs given by visiting holy teachers;
• Meditation workshops or classes;
• Spiritual Activation/Activism-related workshops or Karma yoga related social works;
• Scripture classes that charge nominal walk-in fees and are essentially open to the public;
• One aspect of your satsang attendance requirement is helping to set up or clean up after a satsang event and to assist with prasad ​ ​(the offering) and aarti ​ ​(closing.) Over the course of your apprenticeship, you must learn how to do both from your Mentor. 11 Satsang Attendance Log​ is provided to document your mandatory attendance at​ 12 satsangs during the 18 months for a total of 36 hours. Notify the appropriate staff at your Host Center (as determined by the Center Director) that you are available to assist satsang. They will help to schedule your participation. Although you can attend events outside your Host Center for this requirement, you are urged to support the Host Center satsang and assist as much as you can at the Host Center. Record hours for each event and obtain teacher/facilitator signature, or other person of responsibility. If an event is at a location other than Host Center, obtain photos, receipts, brochures or other evidence of attendance.
Will this program help me to secure "Advanced Certification"?
The Teaching Apprentice Program is designed to provide the skills and practice habits that could make you an outstanding teacher and someone who could become Advanced Certified. It is highly recommended that you have at least two (2) years of teaching experience and four (4) years of asana practice experience before attempting the Board Review for Advanced Certification.
However you may apply to the Board anytime after securing the 300-hour certification. You may retake the Board Review as many times as you like.
How Do I register to take the Advanced Certification Board Review?
The Board Reviews will take place at various Jivamukti Yoga Center locations throughout the year and will be announced in advance. You may register for any Board according to deadlines established at the center hosting the Board.
Can I teach on the "regular" schedule or sub classes at a Jivamukti Yoga School or Center while I am enrolled in the JTAP?
Yes. You may teach on the regular schedule and may sub classes prior to completion of the JTAP with the permission of the Host Center, Program Director and your Mentor.
Will enrolling in this Apprenticeship guarantee a future teaching position at a Jivamukti Yoga Center or School?
No. But it's a good step toward it.
We would love to hear from you