An interview with the founder of the Jivamukti yoga method – Sharon Gannon.
Czech version :
Rozhovor se Sharon Gannon
Přinášíme vám rozhovor se zakladatelkou metody jivamukti jógy – Sharon Gannon. 
Představení Naděždy Brzobohaté, která rozhovor vedla:
Moje úplně první seznámení s jivamukti jógou a Sharon bylo v roce 2008 díky mé dobré přítelkyni. Osobně jsem se se Sharon pak setkala v městě Washington, DC, když jsem se zúčastnila její lekce a autogramiády knihy "Jóga a vegetariánství" v roce 2009 a na základě své skvělé zkušenosti jsem se rozhodla absolvovat učitelský trénink v roce 2010. Sharon Gannon a David Life, spoluzakladatelé metody jivamukti jógy, počali svoji cestu jógy v 80. letech v té době uměleckém a hippie New Yorku, nyní oba žijí ve Woodstocku, NY, USA.
---
English version :

Interview with Sharon Gannon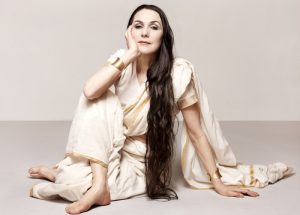 Introduction by Nadezda: My very first introduction to Jivamukti Yoga and Sharon was in 2008 by one of my dear friends. I met Sharon in person in Washington DC, I took my very first class and went to her "Yoga and Vegetarianism" book signing event in 2009 and based on my experience I decided to do the Jivamukti Yoga teacher training in 2010. Sharon and David Life, who co-created the Jivamukti Yoga Method, began their yoga journey in the eighties in hippie and art New York and now live in Woodstock, NY, USA. They have influenced my life on many levels. Through their teachings Yoga started to all make more sense to me. I practiced yoga for some time before I met them and my life and practice took on whole different meaning because of them. I am most grateful for them to be in this life and to be sharing ancient teachings with those who are interested in a way that is sincere and true to the meaning of Yoga.