FULL ONLINE 300HR TEACHER TRAINING! 
We are so excited to offer the first online 300HR Teacher Training to anyone, anywhere in the world who wants to become a certified Jivamukti Yoga Teacher by participating in the immersive, dynamic program alongside the in-person JYTT in Italy this year, in the comfort of your home and at your own pace. For those who can't travel or who can't leave work or loved ones for a month – this is your all access pass into what is considered the most comprehensive certification in the world. 
The digital TT program begins on October 17, 2020, concurrently with the in-person JYTT and online students have until January 17, 2021 to complete it at their own pace. 
All sessions will be streamed live from Salento, Italy and also made available to watch online on-demand to registered students during the duration of the program. 
SPECIAL Bonus material: Original lecture recordings from Sharon Gannon and David Life! 
Online only price is $4000 for tuition with the option to attend a future residential 300HR TT for an additional fee of $2650.  The option will be valid for 5 years.
Scholarships and 75HR TT offsets will still be applicable.
Essays must be emailed to [email protected]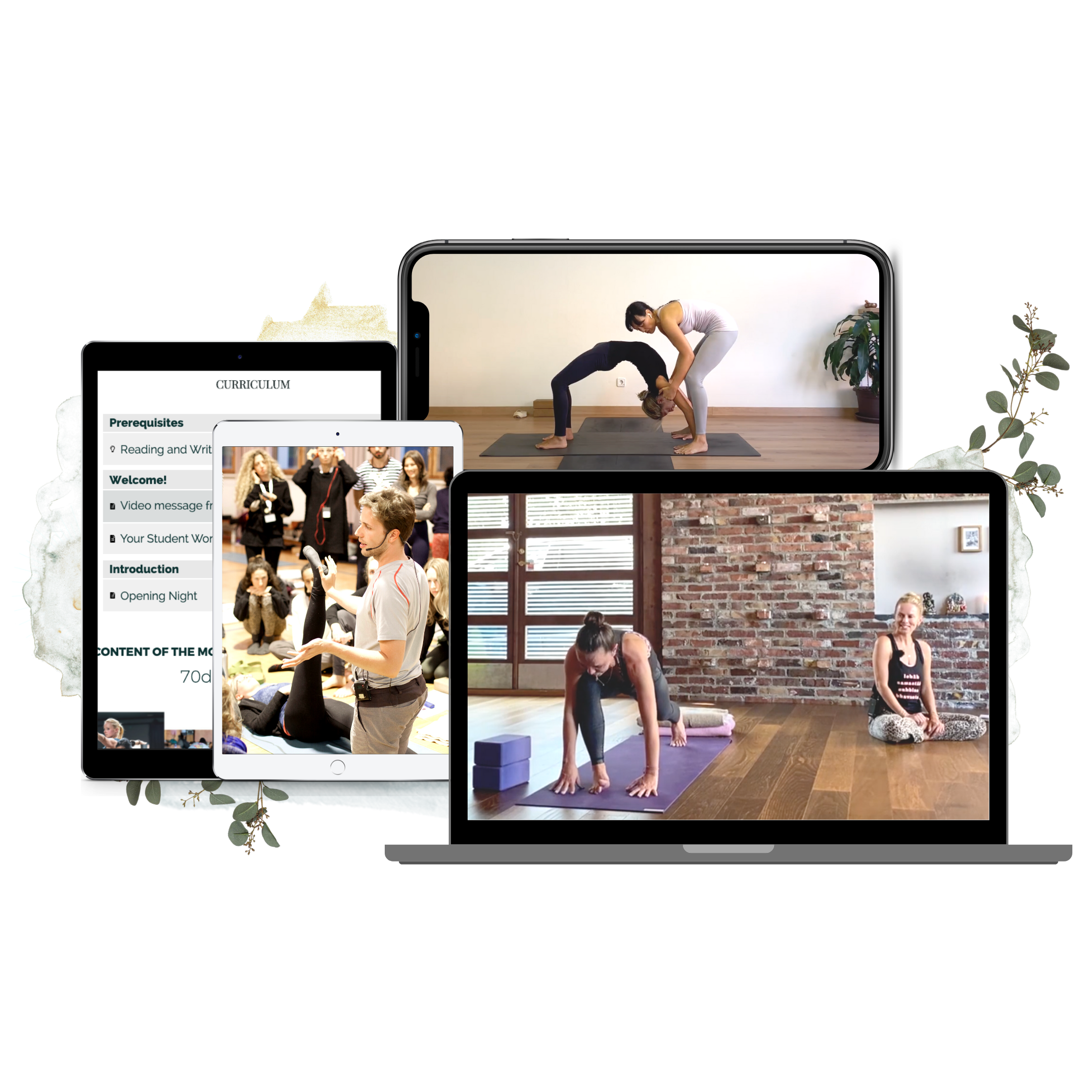 SOON YOU WILL ENJOY THE CONTENT OF THE MOST COMPREHENSIVE
YOGA TRAINING COURSE IN THE WORLD:
Online mentor meetings are scheduled on the following Saturdays, participation is mandatory. Details will be sent to signed up participants respecting their local timezones. 
Oct 24, 2020 
Oct 31, 2020 
Nov 7, 2020
Nov 14, 2020
Nov 21, 2020
Nov 28, 2020
Dec 5, 2020
Dec 12, 2020
Dec 19, 2020
Jan 2, 2021
Jan 9, 2021
Jan 16, 2021
WHAT DOES THIS ONLINE TT OFFER?
A digital empowerment to teach Jivamukti Yoga

More than 100 video and audio files of lectures, practicals, classes and satsang 

A 27 day pdf-workbook

A certificate upon successful completion

Bonus material by Jivamukti Yoga founders Sharon Gannon and David Life (new and exclusive release!)
FREQUENTLY ASKED QUESTIONS
WHAT IS THE DIFFERENCE BETWEEN AN ONLINE AND A RESIDENTIAL 300HR JYTT?
The Online TT gives you the experience of being in the teacher training on-site, but in the comfort of your own home, with the ability to study and review at your own pace. The Online TT allows you to take the course over 3 months, to study and review at your own pace, whereas the residential program is  a consecutive 27 days. For the Online version, you need to find a "student" or "partner" to practice teaching and assisting with at home.
WHAT DO I NEED TO TAKE THE ONLINE JYTT?
Primarily you and your curiosity! Anyone who wishes to immerse in the Jivamukti Method can take this course.  The homework prerequisites to help you prepare can be downloaded here. The main requirement is to be present. You can find the prequisites for the 300hr Teacher Training here; the guidelines for how to prepare, how long you should practice asana before you take the TT, etc. are the same.
Otherwise: a computer, laptop or tablet, a yoga mat and props (min. two blocks, one belt, one blanket). A notebook and pen.
HOW CAN I VIEW AND PARTICIPATE THE ONLINE JYTT?
Platform: You can access the training via a computer, iPad, Android tablet, iPhone or Android phone, ideally with high speed WLAN internet.
Practice: You should have a place to practice and study which is clutter and distraction free, and at least spacious enough to accommodate yourself and your "practice student" safely. You will need a clear space on a sturdy wall at least the width of a yoga mat. You might consider creating a special, devoptional space to enhance the spiritual mood of the Teacher Training. There will be optional recommedations given at the beginning of the TT on how to create an altar.
Self Care: Between the lectures, theoretical sections, and meditation, you could be sitting a lot. We recommend you find a comfortable, supported seat. During lectures, you might find a distraction free way of listening and walking. The TT is as mindful as the yoga practice itself. A state of steadiness (support) and an joy (free of pain) is the goal. Take breaks when you need!
DO I NEED TO BE VEGAN DURING THE ONLINE JYTT?
We encourage participants to follow our guidelines to cultivate a healthy vegan diet throughout the intense period of yoga practice during TT and beyond, as they would in the on-site TT. Just as the on-site gives on-site participants a chance to experience the amazing benefits of veganism combined with yoga, online participants will receive an introductory video along with recipies and guidelines to help facilitate that transition with ease and joy. 
HOW LONG CAN I ACCESS THE RECORDINGS?
The TT itself is 27 days, from October 17- November 13. Afterwards, you will have extended access to study, practice, re-take sections for review, and fully absorb the 300hrs of material between October 17, 2020 to January 17, 2021.
DO I RECEIVE A CERTIFICATE?
Yes, upon 100%  successful completion of all classes, sessions, lectures, and mentor meetings, and passing the midterm and final examinations, you will recieve the same certificate as in-person participants via mail. You will be fully certified as a Jivamukti Yoga Teacher.
HOW DO THE EXAMS WORK FOR THE REMOTE LEARNING STUDENTS?
Exams will be taken via live Zoom calls with your mentor.
ARE THERE WAYS TO ORGANIZE A SANGHA FOR REMOTE STUDENTS SO THERE IS A SENSE OF COMMUNITY WHILE LEARNING REMOTELY?
Yes, within respecting all Covid-19 health and safety guidelines, we encourage organizing a local satsang to study and practice with.
WHAT IS THE TYPICAL DAY CLASS SCHEDULE FOR LIVE STREAMED SESSIONS?
Streaming times will be 8am -11pm CET, as live from Italy. Recordings will be uplaoded within 24hrs. Students are allowed to follow the course by viewing the recordings at your own pace, according to your schedule.
WHAT IS REQUIRED OF MY "PRACTICE STUDENT?" DO I NEED THEM EVERY DAY?
You will need another person to practice teach to and practice assisting. You will primarily need a partner in the last 10 days of the TT as we shifted all assists to that part of the program due to Covid-19 health and safety. Most sessions you'll need your partner for 2-4 hours, we will post the concise schedule on the website by Friday Aug 21. But keep in mind for the most part, you can take the course at your own pace so you can find your partner according to your schedule. It doesn't have to be the same person every time, and it doesn't need to be someone else in the TT.
WILL ONLINE PARTICIPANTS BE EXPECTED TO SEND IN VIDEOS TEACHING AND ASSISTING?
Yes, we will require a full video recording of you teaching Class 6 and 7 by the end of TT as part of your final examination.
CAN I HAVE A MENTOR THAT SPEAKS MY LANGUAGE? CAN I DO MY EXAM IN MY OWN LANGUAGE?
The mentors have yet to be chosen, and we will select them based on the group size and student needs/time zones. If we have enough participants speaking Spanish, German, Italian, etc..  – yes, there could be a mentor speaking that language  and you will be able to part of your practical exam in your own language. But, please know that the language of the TT is English. That said, if you have some understanding of English and want to take the extra time to study and absorb the material during the 3 months of TT, we encourage you to join us! 
WHO ARE THE MENTORS? WILL THEY BE IN MY TIMEZONE?
We will assign mentors by request or according to what works best based on each participants local timezone. The mentors for JYTT Online 2020 will  be Ian Szydlowski, Jutta Ariane Mele-Maurer, Jessica Stickler (US participants), Tone Overelv, and Anna Lunegova.
WHAT TIME ARE THE SATURDAY MENTOR MEETINGS?
The mentor meetings will take 1-2hours each Saturday and will be assigned within students local timezones. You will not need your practice student for the meetings. If you cannot attend a meeting please notify [email protected] as soon as possible but it should be avoided as much as possible! 
Meeting times are assigned as follows:
Jutta Mele-Maurer 10-11am CET
Tone Overelv 12-1pm CET
Ian Szydlowski 1-2pm CET
Anna Lunegova 3-4pm GMT (2-3pm CET)
Jessica Stickler 2:30-3:30pm EST
ALUMNI
We have special offers for alumni! Please email us at [email protected] to find out more!
SCHOLARSHIPS
Jivamukti Yoga has awarded scholarships to people in over 20 countries since the 1990s. We fully recognize that not everyone who wants to attend teacher training has the same financial situation, so for years we've awarded scholarships on a need basis to offset tuition costs. Payment Plans are also available. ⁠⠀
⁠⠀
Scholarships are limited and allotted quickly on a 'first come, first served' basis to eligible candidates. We welcome your application at [email protected].