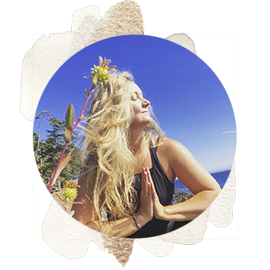 "Be here now" a quote from Ram Dass has been the inspiration behind Alexandra (Alex) Copley's practice and life since she was inspired at the tender age of 18. She has been studying yoga and meditation since then and has received trainings in several traditions of yoga practice. While travelling the world as a professional photographer she found comfort and consistency on her mat. This also led to her exposure to varying yogic styles and traditions throughout the years. With teachers from Asia to Europe, Australia to India, and North and South America, her yoga combines pieces of all of her journeys into an enlivened yoga flow.
She has been trained in Jivamukti, Ashtanga and Hatha yoga as well as Buddhist meditation techniques. She teaches creative and dynamic Vinyasa flow, calm and fluid Hatha, meditative Yin yoga, and fiery core strength classes. Alex integrates her knowledge of anatomy with a meditative flow allowing the student to experience her classes with the uniting of Body, Mind and Breathe.
She guides students with gentle adjustments for achieving accurate alignment. She feels every yoga class should spark the kindle of self-discovery and body-wellness in her students.
By "Being here now" the students leave their worries at the door and depart with a smile. Alex now resides between Mumbai, India and Clearwater, Florida USA spreading the joy of yoga and photography worldwide.