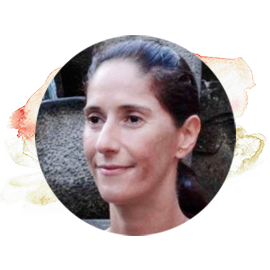 Almudena Pastor (Almu as most people know her) is a 300 hours Certified Jivamukti yoga teacher, having completed her Teacher Training in Govardhan Eco-village, India (February 2016).
Almu's regular practice began in 2014 at the former Jivamukti Center in London where she found a peaceful oasis to unwind from her hectic life as a Marketing Communications Executive. Her dedicated practice started having a transformative effect in her life that took her on her first 200 hours multi-style yoga Teacher Training in Goa, India (November 2014) where she gained deeper insight into the yogi philosophy and idiosyncrasy around Hatha, Ashtanga and Vinyasa yoga styles.
Almu's teaching skills took off while traveling around Asia after her training in 2016, teaching at Talalla Resort (Sri Lanka) and Eco-Logic Resort (Thailand).
Back in Europe, she spent the winter of 2017 in London where taught at studios such as Yogahaven Clapham, Bikhram Yoga or Virgin Active and then in Spain between Madrid and Barcelona at Soma Lifecentre, The Class and Epal and Yoga Gracia respectively and back in London doing covers for the likes of Yogarise or The Life Centre.
Her classes are designed as an intermediate/intense, creative vinyasa sequence that combines movement and breathing as the linking mechanism to connect mind, body and soul, resulting in an equally grounding and elevating experience that brings about a deep sense of wellbeing, eased by hands-on alignments. Almu's philosophy is to inspire her students to become the best version of themselves by using the yoga practice and its ancient teachings on / off the mat.
Almudena is deeply thankful to all her teachers Jules Febre and Lady Ruth, mentor Doug Whittaker, Jivamukti Co- founders Sharon Gannon and David Life for all the learnings passed down as well as Cat Alip-Douglas for deeply inspiring her practice. Likewise, she sends her blessing to all the yoga teachers that continue to motivate her journey, her family, travels and anyone that comes into her life sharing their light.