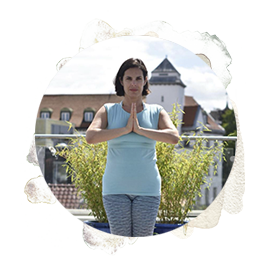 Annamaria is a Stavanger based, 800 hour certified Jivamukti Yoga teacher. She has also the 75 HRS certificate from before. Originally she is Hungarian, from Budapest, born of a Hungarian mother and Cuban father. She moved to study and live in Norway in 1998. She is proud of her diverse cultural heritage and for being an Earthling.
Her first proper yoga experience was 17 years ago, being pregnant with her first daughter and attending at a course with Camilla Veen at Atha Yoga, later known as Jivamukti Yoga Stavanger. Yoga become her great passion 13 years ago and has just realized that not even one lifetime can teach her all she would like to know.
Annamaria initially gravitated to the wellness space as a means to find healing from childhood trauma from growing up during communism in the 80-ies in Hungary and her search for her father. (Spoiler: yes, she did find him with grace of the Lord and help from a Norwegian TV show). Now she looks on life as a miracle, a fun, but crazy ride and this reflects in her classes and playlists too.
As a professional she works as an economic advisor at the local Culture center in Stavanger and has great love for books, culture and people.
She continually deepens her studies of yoga practice and philosophy through her local and accomoplished teachers: Camilla Veen, Tone Øverelv, Terese Arildsdatter Riis and attends as much inmersions as possible with visiting international teachers such as Sharon Gannon, Yogeshwari and Moritz Ulrich.