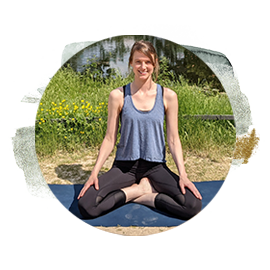 I started practicing yoga in 2005 back in New Jersey, to help balance competitive sports and running. As the years went on, I discovered there were more benefits to yoga than simply balancing out muscles throughout the body, and found that it also deeply helped me through stressful times as a corporate professional. I tried out several different styles of yoga as I moved throughout the world for my career, but once I tried Jivamukti, I was at home!
I've been inspired by teachers Anja Kuehnel, Martyna Eder, and Juan Sierra and many more; I continued to deepen my practice and find a happier way of living. I decided to complete the 75HR and then the 300HR trainings with the aim to inspire others as my teachers have done for me. I currently teach in Berlin both in studios and online. Find me on instagram @yogaandbeans for more. 🙂
OM, shanti shanti shanti.