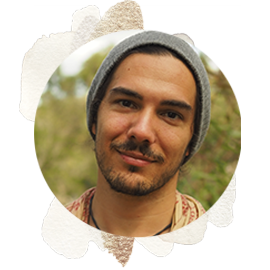 I'm based in Sydney, originally from a small town in Germany. Since i was younger i have been engaged in health, spirituality, meditation and been inspired by the teachings of the vigorous. As soon as i left university with a degree in sports and fitness, i traveled to India to learn more about yoga. Since my first step on this incredible country I've been visiting India nearly every year for the past 7 years to live and study in ashrams and yoga schools all across India.
Studying, Hatha, Ahstanga, Shivananda, Iyenga, Vinyasa and Yin Yoga to learn more and more about this path to enlightenment. Through all these years Jivamukti was always the method that inspired me the most and i feel privileged to be an official teacher now.
Throughout my spiritual journey i studied buddhism and attended various silent meditation retreats. To get a wider understanding of body and mind i studied Shaolin Kungfu in a temple, living and practicing with monks who dedicated there lives to the teachings of the Buddha.
Since 2019 I've dedicated my life to karma yoga and been teaching all over the world to share these beautiful teachings. Now I'm practicing karma yoga in Swamis Yoga Retreat and Ashram in Kenthurst, Sydney. Deepening my own practice and studying and teaching yoga daily.