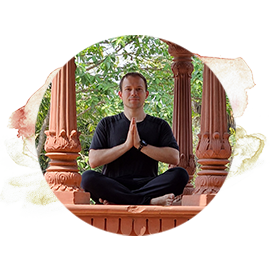 Evgeny started his yoga path in 2018 year. He started yoga practice for relaxation, mindfulness and to know more about this ancient practice.
In 2023 Evgeny finished JYTT 300 hr in India. It was amazing journey to himself. It was transformation for mind, body and his life.
In 2022 Evgeny finished JYTT 75 hr with Anna Lunegova nad Olga Oskorbina in Moscow.
In 2022 Evgeny finished pranayama teacher training course with teacher Michail Baranov, Evgeny Butov, Simon Borg Oliver, Andrew Appler, Manusumi Madavan. In september 2022 Evgeny passed exam and has certificate for pranayama teacher.
In 2021 Evgeny finished his first yoga teacher training course in Russia and passed exam for Hatha yoga teacher.
By first education Evgeny is an Engineer and software developer. In yoga, Evgeny follows a clear structure and sequence.
Evgeny supports his practice of yoga asanas, pranayama and never stops learning.