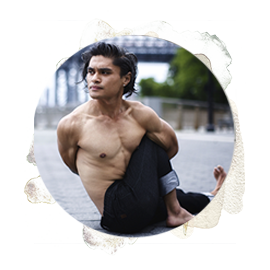 My yoga journey started in 2007, after graduating from Berklee College of Music. At the time I couldn't afford to attend daily yoga classes, but the practice was such an emotional healing bomb for me that I learned on my own from DVDs, YouTube and attending one community class each week at my local yoga studio.
I moved to New York in 2009 and began practicing at Jivamukti Yoga School. In 2011 I completed the 300hr Jivamukti Yoga Certification, respectfully thanking Sharon Gannon and David Life for making that possible and continued on to complete the 500hr Jivamukti apprenticeship that same year.
I began practicing Ashtanga Yoga on my own in 2012 and in 2014 I found my teacher, Guy Donahaye (director of the Ashtanga Yoga Shala NYC). In 2015, I began apprenticing under Guy's tutelage, acquiring all the techniques, concepts and philosophies that were imparted to him from his teacher. I continue to immerse myself daily in sadhana so that I can share my love and passion for yoga to inspire others as I have been.