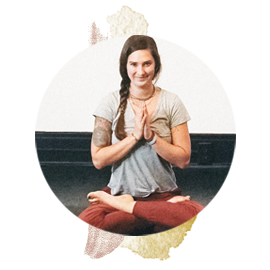 Katherine Freeland is a Bhakta, a Jivamukti Yoga Teacher, lifestyle photographer, creative designer, & communications artist.
She found Jivamukti in NYC in 2013, diving into a journey of esoteric awakening that continues to this day. Katherine offers authentic & playful insight on how to take the practices we learn on our mats into the real world. She is kind, humorous, and relatable. Katherine is grateful to Jivamukti for introducing her to Kirtan & Krishna, bringing grace and joy to her life.
Katherine is the guide for international 300HR JYTT since 2019. She teaches Yoga to adults + children, in groups & privately with emphasis on becoming fit, as her beloved teacher Sharon Gannon puts it, to be an instrument of the divine. She is a joyful kirtan singer.
She is faculty at Lifetime Athletic Club and Episcopal School Nashville. She takes students on for holistic yoga lifestyle coaching when she is available.
BFA, Photography, Pratt Institute, Brooklyn, NY, 2015
200HR Vinyasa Yoga TT, NY, Christina Rufin, 2017
Premiere 75HR JYTT, NYC, Rima Rabbath, 2019
300HR JYTT, New York, Lady Ruth Lauer-Manenti & HaChi Yu, mentor Monica Jaggi, 2021
Alumni 300HR JYTT, Salento, Italy, Yogeswari & Moritz Ulrich, 2022
Premiere Teacher's Refinement Course (Art of Sequencing & Bhagavad Gita), Italy, Yogeswari & Lady Ruth, 2022
Virtual Kids Yoga YTT, Govardhan Ecovillage, India, 2023
She hopes to become Advanced Certified in the next year to open a residential Jivamukti center in the USA.