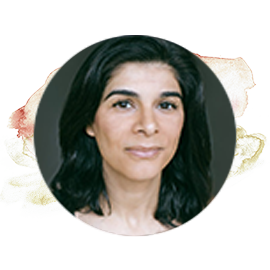 A long time student of Sharon and David and Jai Uttal, Manizeh is an Advanced Certified Jivamukti teacher. She completed her Jivamukti Yoga training with Sharon and David in 2003, and her apprenticeship with Yogeswari in NYC. She started Jivamukti Yoga London in 2005 (now Sangye Yoga). She ran the centre, and taught there, until she moved to San Francisco many years later. She also started the Yoga program at Maggie's Cancer Centres. She is now back in London. She has a BA in Political Science from Brown University.
As an extension of her Yoga practice, Manizeh started the Jivan Food Fund in 2013, with her partner Lisette. She invests in food start-ups, focused on meat and dairy replacement companies, as well as restaurants.
She feels more passionately than ever about experiencing life through the Yogic lens, and helping others to experience this too – ultimately making us more kind and compassionate people, at least some of the time!