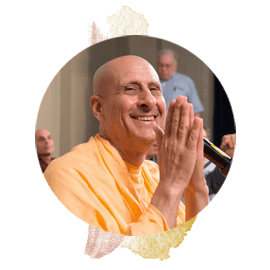 Radhanath Swami is a Spiritual Guide, Author and Activist
Radhanath Swami is the founder and co-ordinator of multiple spiritual communities throughout the world, the most prominent of which is the Radha-Gopinath Ashram located in Mumbai, India. Under his inspiration and guidance, the project has grown to include hospitals, orphanages, eco-friendly farms, schools, temples, emergency relief programs, and a food distribution program that feeds more than 1.2 million children in India every single day.
In spite of his many responsibilities, he also travels widely, teaching Eastern philosophy and spiritually throughout Europe, Asia, and America. He has been featured as a guest speaker in universities such as Oxford, Cambridge, Princeton, Harvard, Columbia and Stanford, and in corporations such as HSBC, Microsoft, Facebook, Starbucks HQ, Google, Intel and Oracle, to name a few.