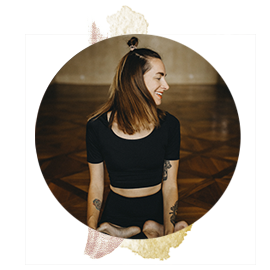 Šárka has encountered yoga since childhood, when her father placed values ​​such as kindness, nonviolence, and compassion for all beings and Mother Earth at her heart. Then she found this as the main building blocks of Jivamukti yoga method.
Her first lesson she attended was, which probably won't surprise anyone, a Jivamukti Open class. When she chanted the Lokah samastah sukhino bhavantu for the very first time, tears rolled from her eyes like peas to the mat. She left the class completely filled with peace, love, kindness and contentment. Then she wanted to experience this state all the time. There began her passion to experience Yoga as a state and trips to India and studying yoga through yoga therapy and hatha yoga in the tradition of Swami Shivanand. All that time she has been very influenced by the tradition of Jivamukti Yoga, its founders Sharon Gannon and David Life, and many other wonderful teachers of that tradition but for many years, life circumstances did not wish her to go on the JYTT. In the end, however, thanks to great effort, great dedication and to her family she did her TT and she became a certified Jivamukti yoga teacher under the guidance of Camilla Veen and Olga Oskorbina.
Sarka has a yoga studio in Prague called Jógovna which is focused on Jivamukti Yoga and she hope that at a some time the studio will become a affiliated JY studio or Jivamukti Yoga Prague.
Sarka is so grateful to be a tool the JY method. Thank to her teachers and God!