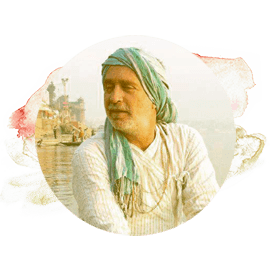 Shyamdas (1953-2013) was a pioneer in bringing Indian devotional and yogic traditions to the West. He published more than 15 books on various aspects of devotional philosophy. A talented musician, he released 6 albums of devotional chants, known as bhajans or kirtans. He sang to crowds all over the world, including at the Omega Institute and at yoga studios on practically every continent.
Shyamdas, born Stephen Ted Schaffer, first came to India in 1972 to meet the great saint Neem Karoli Baba-Maharaji, guru to Ram Dass and others. Shortly thereafter he met the man who would become his guru, His Holiness Shri Goswami Prathameshji, one of the leading masters of Hindu spirituality, with whom he studied and lived for much of the next 18 years until Prathameshji passed away in 1990. During his time in India, Shyamdas developed fluency in Sanskrit, Hindi, Gujarati, and Brajbhasha, translating thousands of pages of classical and pre-modern texts into English. He became enamored with the mystic poets of North India, including the poems of Surdas, widely considered the Shakespeare of Hindi literature.
His teaching style was infused with humor, calling his Woodstock community the "Bhajan Belt" and sprinkling in phrases like "Aum Shalom," a remnant from his secular Jewish upbringing. One of his trademark characteristics was that he was equally adept at making his rapt audiences explode in laughter as he was able to make them contemplate scriptures like Bhagavad Gita and the Krishna devotional literature that was closest to his heart. He touched the lives of thousands with his sharp wit, deep intellect, loving nature and ability to make even the most esoteric concepts accessible.
For Shyamdas, his spiritual practice was in pursuit of the "bhava," what he described as "the enlightened, inspired state of pure being." It is in this spirit that we, his family and friends, have created the Shyamdas Foundation.