The 300HR Teacher Training
bali 2021
April 3, 2021 – April 30, 2021
Location: Soulshine Bali , Bali, Indonesia, Bali, Indonesia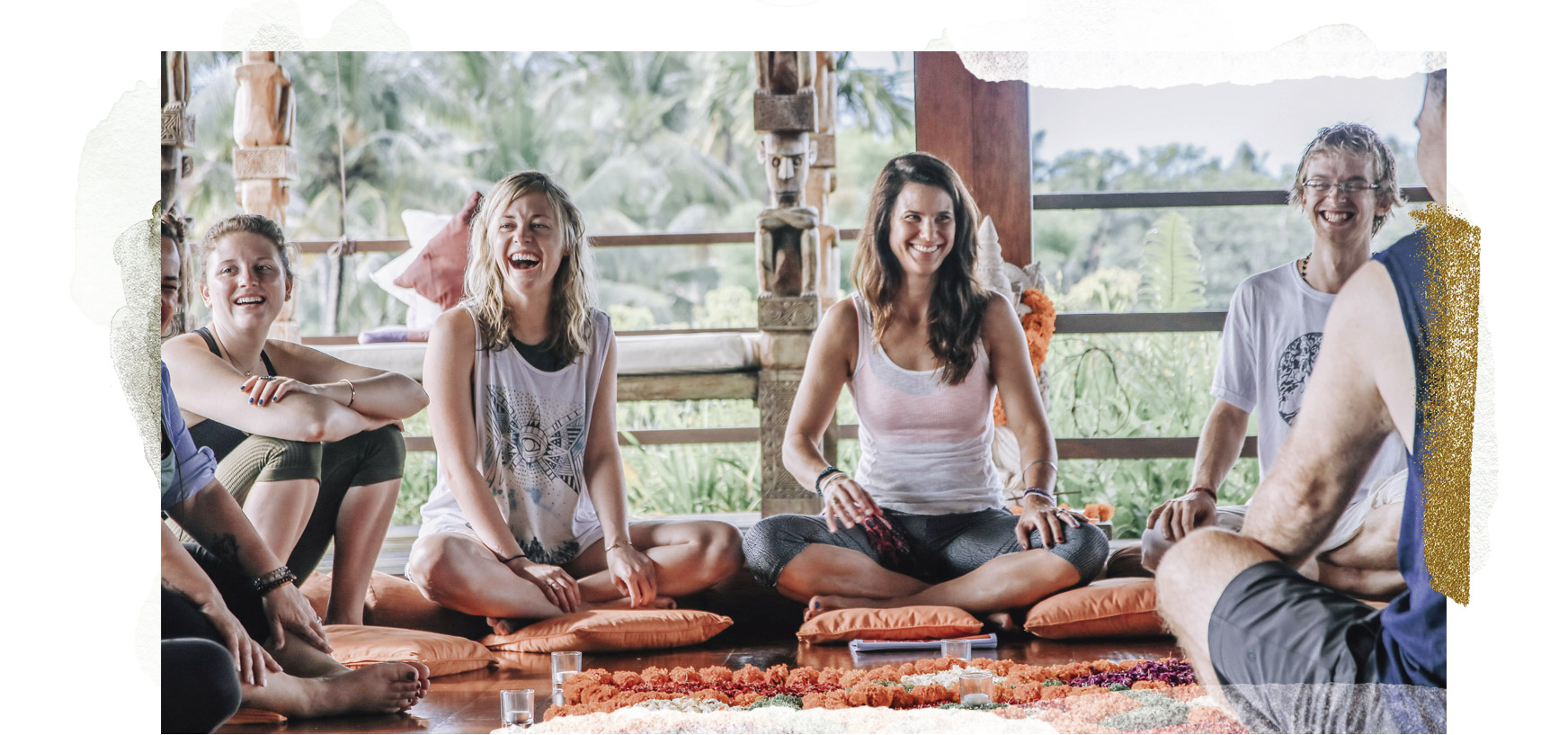 Dates & Deadlines
| | |
| --- | --- |
| Early Bird Available | until June 3, 2020 |
| Refunds are available (less the $1,500 deposit) | until October 1st, 2020 |
| October 2nd, 2020 – January 3rd, 2021 | non-refundable credit on your Jivamukti Teacher Training account (less the $1500 deposit) to be used for any future 300hr TT |
| After January 3rd, 2021 | all fees are strictly non-refundable and non- transferable, non-negotiable |
| March 1, 2021 | Balance Due |
Daily schedule
| | |
| --- | --- |
| 7:00am–7:45am | Breakfast |
| 8:00pm–12:00pm | Class Time |
| 12:00pm–12:45pm | Mentor Group Meeting |
| 12:45pm–1:45pm | Lunch |
| 2:00pm–6:00pm | Class Time |
| 6:00pm–7:30pm | Dinner |
| 8:00pm–11:00pm | Satsang |
At Soulshine Bali: A Magical Oasis
Soulshine is located in Ubud, the lush and rich cultural center of Bali. Surrounded by ancient rice terraces, along a flowing river and sacred temples, we have created a place of happiness where your soul can soar in the sun. Dive into paradise and experience the magic of Bali!
Tropical modern designer rooms and villas inspired by iconic musicians. Every room features handcrafted furniture, contemporary interior and antique pieces collected from all over Indonesia.
Soulshine Bali feels like your home away from home, from high quality linen duvets to your own Marshall speaker. All rooms have lush garden views, free wifi and air-conditioning. The boutique suites and luxury pool villas include custom bedding, rain showers and mini bars.​
No matter which level of luxury you choose, the low-key style comes with lots of comfort. Clean-lined furniture combine with rough, natural textures, and exotic accessories to create your perfect down-time sanctuary.
ACCOMMODATIONS AND PRICING
Tuition
Early Bird until June 3, 2020 $6250
After June 3 $6550
Please note early bird pricing cannot be combined with 75hr TT Offset Credit.
Accommodations 
Includes 3 gourmet vegan meals per day, use of all facilities including pools and yoga rooms, daily room cleaning, and hi speed Wifi. All pricing listed below is per person.
Soul Rooms
Boutique Suite/ Soul Rooms (Double) + Board: $3906 per person
Seven deluxe boutique rooms with hand crafted furniture by local artisans mixed with antique pieces and modern decor. Click the link above to see the beautiful, unique options available, and scroll all the way down for soul rooms 1 and 2.
Standard Soul Rooms (Double) + Board: $3,366 per person
Standard Soul Rooms (Single) + Board: $5,341
Panorama Rooms
Panorama is the newest edition to the Soulshine Family to be completed in January 2020 consisting of 13 luxury suites and 3 penthouse suits on the third floor. the open air yoga studio and dining area are set next to a gorgeous infinity pool overlooking the terraced rice fields and coconut grove.
Panorama Suite (Double) + Board:  $4,176 per person
Panorama Suite with Tub (Double) + Board: $4,746 per person
Panorama Suite (Single):   $7,266
Transfer to/from airport not included/booked separately.
AMENITIES AT SOULSHINE
• Daily Organic Breakfast Buffet with fresh home baked bread, fresh juice, coffee and tea
• Free Flow Filtered & Purified Drinking Water
• 24HR Self Service Coffee and Tea
• 24HR Use of Infinity Pool
• 24 HR Security
• Daily Cleaning Service
• Nightly Turndown Service
• Complimentary Hi Speed Wifi
FOOD AT SOULSHINE
At Soulshine Bali, eating healthy is made easy and delicious. Everything is prepared with your health and wellbeing in mind. Local specialities, veggie burgers, creamy vegan pasta or a raw dessert, you'll always find something nourishing or indulgent in our predominantly vegan menu. All of our organic ingredients and produce comes from our own organic garden and neighbouring farms. 
Come and sip tropical juices, super healthy smoothies and cocktails listening to finely selected tunes at our bar that seamlessly merges with the pool and stunning views.
TRAVELLING TO BALI - FAQ
DO I NEED A VISA TO VISIT BALI?
Yes, depending on your nationality you may need to apply for a visa in advance or you may be eligible for a VISA on arrival. Please check this link to verify your status:
Make sure that you have a passport valid for at least 6 months from the arrival date or you will be turned away from your departing city. You must also have proof of a return ticket.
STAYING UNDER 30 DAYS: If you are staying under 30 days, you can enter at no cost.
STAYING OVER 30 DAYS: If you want to stay over 30 days you must buy a Visa on Arrival for $35USD, then extend your visa before it expires on Day 30. This can be arranged at Soulshine or a local immigration agent.​
WHAT AIRPORT DO I FLY INTO?
Denpasar Ngurah Rai International Airport (DPS) is the international airpot you will be flying into. Remember you can lose up to two days with the time change and flight time, so double check your arrival date and retreat start date.
HOW DO I GET TO SOULSHINE FROM THE AIRPORT?
We can arrange private transportation for you. One of our trusted drivers will meet you with a Soulshine Bali sign and big welcome smile. Please contact us if you would like us to arrange this for you. If you are part of a retreat, check with your retreat leader if transportation to and from Soulshine Bali is included. If you have any questions regarding your arrival time and transportation availability, please send us an email at [email protected] It's a great idea to arrange transportation well in advance if you are arriving into Bali early in the morning (1-5am).
Please note there is a walking path of 180m from our driveway to the entrance of the hotel. If you need assistance, a ride on a scooter can be arranged.
WHAT IS THE ELECTRICAL CURRENT/OUTLET IN BALI?
Bali electricity runs at 220V.  Adapters will be necessary if you are bringing any electrical items. We use the European plug (two round pins). We have adaptors for you to borrow and all our rooms have at least one American adaptor to plug directly into. You can also borrow adaptors from reception once you arrive.
We provide hairdryers in each room. Please do not bring your hairdryer as it might blow.
DO I NEED VACCINES?
Traveling outside of you home country can expose you to bugs your body might not be used to. The odd case of "bali belly" (diarrhea) is not uncommon. Packing an anti-diarrheal can put you at ease. It's always nice to check in with your family doctor or local travel clinic if you need any information on vaccines or medications to bring with you. We've got some great pharmacies ("Apotek" in Indonesian) and an awesome health clinic nearby Soulshine Bali in case you need anything.
WHAT IS THE CURRENCY?
The currency here is called Rupiah. You can bring your own currency over and convert it, or use ATM machines to withdraw Indonesian currency.  ATM withdrawal fees vary bank to bank, so make sure you check in with yours to get all the info. Many restaurants and stores take credit cards. Don't forget to let your bank or credit card company know you are traveling.
WHAT WILL THE WEATHER BE LIKE AND WHAT SHOULD I PACK?
Because we are located near the equator, Bali tends to have fairly stable weather with the 'wet' season occurring between November and March and the 'dry' season between May and September. The sun still shines bright during the wet season. It is generally always hot with temperatures hovering in the mid to high 80s and up. We recommend light clothing that breathes but can also protect you from the sun. Being near the equator, our sun is hot and can burn much faster than what you might be used to. Sleeves or a light jacket is also helpful in the evenings if you decide to take a scooter ride. We've got great natural bug spray and SPF 25 sunscreen, but don't forget to pack your own if you have your favorites.
ARE THERE MOSQUITOS?
Yes. We recommend bringing a mosquito repellent and applying it generously at dusk and dawn, when they this is the equivalent of their happy hour. There is organic repellent at reception for your use as well.
Do you have another question?
Not sure if the JYTT is for you?
We would love to hear from you!
We are very happy to answer questions by email, or you are also welcome to schedule a phone call with our friendly team. If you are interested, please write a note about your availability and we will respond to schedule the call.